Member News
Over $250,000 in Grants Awarded to Support the "Future of Work" at Downtown Muncie's MadJax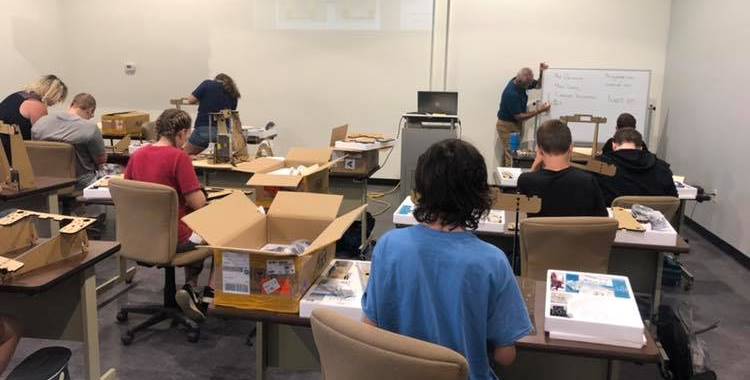 Four local organizations were recently awarded Ball Brothers Foundation grants to build-out spaces and programming that inspires innovation, entrepreneurship, and collaboration inside MadJax, an 80,000+ square foot maker space in downtown Muncie. The grants—awarded to Ball State University, Purdue Polytechnic Institute, Ivy Tech Community College, and Sustainable Muncie Corporation—will support efforts to build better linkages between the four institutions, K-12 schools, and local employers.
"Our region has a tremendous legacy of 'making' things that extends back for over a century. As forces like automation, technology, and globalization reshape workforce demands, we hope to build on the rich heritage of this community and build a pipeline of students who are prepared to enter the workforce equipped with innovative, entrepreneurial, problem-solving mindsets," reflected Jud Fisher, President and COO of Ball Brothers Foundation.
Ball State University will use $40,000 in grant funding to establish a full-fledged "Community Makers Hub" inside MadJax, expanding the College of Architecture and Planning's current space in the building and establishing a new presence for the School of Art. Classroom and lab space will provide workshop areas for wood construction, metal fabrication (MIG, TIG, and arc welding), and 3D fabrication. The space will promote "design-thinking" and is envisioned as a shared space with shared equipment that will allow the University to partner in the future with robotics clubs, Project Lead the Way courses at area K-12 schools, Purdue Polytechnic Institute, Ivy Tech Community College, and local artists, among others.
Funding for Purdue Polytechnic Institute—totaling $30,000—will allow Purdue to design a custom certificate in engineering technology in collaboration with Muncie Community Schools, to work with local employers to develop custom skills training courses for current employees, to create a series of non-credit "maker workshops" and STEM outreach activities for K-12 schools, and to operationalize robotics and automated advanced manufacturing training equipment.  
Ivy Tech Community College Muncie-Henry Co. Campus will utilize $20,000 in funding from Ball Brothers Foundation to formalize its presence in the MadJax facility. The community college will expand its Upward Bound presence in MadJax and will also support the build-out of office space for Project Leadership, a local non-profit organization. Tammy Pearson, Project Leadership's Director stated, "Project Leadership is very excited about the move as it aligns with the growing roles we find ourselves serving in throughout Delaware County." Ivy Tech will also plan to construct a shared collaboration space for both programs. Upward Bound and Project Leadership provide complementary college/career preparation and access programming primarily for low-income/first generation college students. "The opportunity for students to have access to three institutions of higher education—Ball State University, Purdue Polytechnic Institute, and Ivy Tech, multiple support programs, and exposure to some of the fastest-growing job areas all in one place is unparalleled," shared Ivy Tech Chancellor Jeffrey D. Scott in reflecting on the opportunity to strategically locate office and collaboration space inside the MadJax building.
Finally, $170,000 in Ball Brothers Foundation funding will support general operations, capital projects, and infrastructure of the MadJax facility via a grant to Sustainable Muncie Corporation. Included in the grant is funding to develop a "R&D" (research and development) lab to provide shared space for local businesses, higher education institutions, K-12 schools, robotics clubs, and local makers to work together on collaborative, hands-on projects.
"As a private grantmaking foundation that is dedicated to improving the quality of life in Muncie, Delaware County, and Indiana, we are excited about the opportunity to take some measured risks on initiatives like the 'Future of Work' that are bold, collaborative, and forward-thinking. We believe strongly in the revitalization efforts that are underway in downtown Muncie, and we believe that the build-out of programming and space inside the MadJax facility will further accelerate the culture of innovation, entrepreneurship, and community that is already blossoming. As more K-12 students, college students, robotics club participants, and local employers engage with one another, we are excited to see how the pipeline of future workers becomes stronger," stated Jud Fisher. "We are also proud to support efforts that will help current job seekers and those already employed to gain additional skills that are in-demand by employers in East Central Indiana and beyond."
These grants were awarded by Ball Brothers Foundation's board of directors during their spring meeting. In total, the board approved $2.78 million in grants.
Included in the $2.78 million total was funding for a variety of projects that will support continued redevelopment of the downtown Muncie corridor, efforts to revitalize neighborhoods, and enhancement of quality of life amenities:
American Legion Post 19: Replacement of roof, outdoor sign, and HVAC, Awarded $59,000
Ball State University: Support for engagement with Next Muncie initiatives, Awarded $15,000
Cardinal Greenways: Multi-year support for trail maintenance and operations, Awarded $400,000
Greater Muncie, IN Habitat for Humanity: Multi-year operating support to enhance growth and impact, Awarded $325,000
IU Health Ball Memorial Hospital Foundation: Support for engagement with Next Muncie initiatives, Awarded $15,000
Muncie Action Plan: Operating support, Awarded $15,000
Muncie Sports Commission: Turf replacement on two fields, Awarded $50,000
Ross Community Center: Phase III build-out of baseball diamonds, Awarded $200,000
Grants also supported organizations providing human services and those providing leadership programming including:
Indiana State Museum Foundation: Development of a new exhibit on drug addiction and recovery; support will also provide transportation for students from hardest hit areas across the state as well as a youth journalism project to explore the topic, Awarded $50,000.
Ross Community Center: Multi-year operating support, Awarded $125,000
Shafer Leadership Academy: Operating support, Awarded $30,000
United Way of Delaware & Henry Counties: Matching grant for the 2019 Campaign, Awarded $75,000
YWCA: Operating support, Awarded $20,000
Support for youth and young adult-serving organizations included:
Boys & Girls Club of Muncie: Operating support for year-round programming, Awarded $150,000
Conner Prairie Museum: Costs associated with bringing history and science programming to Delaware County for 60 visits to local schools, Awarded $10,000
Indiana Youth Institute: Consulting support and professional development for two youth-serving organizations in East Central Indiana, Awarded $60,000.
Inspire Academy: Portion of funding needed to create inclusive playground for students and community members who use wheelchairs, Awarded $11,000
Motivate Our Minds: Operating support for after-school programs, Awarded $30,000
Project Leadership: Multi-year operating support to advance college and career readiness in Delaware County, Awarded $350,000
Project Leadership: Support for the 2019 ICE League—a middle school boys and girls academic basketball league, Awarded $40,000
TeenWorks: Funding to pay wages/expenses associated with 6-week summer employment program for teens, Awarded $30,000
The Arc of Indiana Foundation: Expansion and evaluation project for the Erskine Green Training Institute which provides job and life skills training for young adults with disabilities, Awarded $50,000
Youth Opportunity Center: Staff training program enhancement, Awarded $25,000
YMCA of Muncie: Funding to support AppleTree Childcare Center, Awarded $100,000
Funding for arts and culture organizations included:
Muncie Arts and Culture Council: Capacity building support, Awarded $15,000
Muncie Symphony Orchestra: Together in Muncie outreach programming, Awarded $30,000
Music for All: Summer Symposium 2019, Awarded $30,000
In keeping with Ball Brothers Foundation's long-standing interest in the environment, three grants were awarded to organizations for stewardship and conservation:
Community Foundation of Muncie & Delaware County: Support for the "Land Conservation Fund," a fund that allows for the strategic purchase of land for conservation and recreation, Awarded $50,000
Delaware County Soil and Water Conservation District: Operating support and educational initiatives, Awarded $40,000
Red-tail Land Conservancy: Operating support, Awarded $40,000. 
Two additional grants were directed for efforts in collaboration with Ball State University:
Ball State University: Creation of a video series to be produced by students and faculty from the Department of Telecommunications documenting major projects underway in the Muncie community, Awarded $72,000
Ball State University Foundation: Creation of the "Women of the Ball Family Leadership Legacy Fund," a fund that will provide professional development opportunities to outstanding administrative/staff-level female employees, Awarded $10,000.
Ball Brothers Foundation is one of the state's oldest and largest family foundations. Annually, the foundation makes approximately $7 million in grants to support arts and culture, education, the environment, health, human services, and public affairs. The Muncie-based private foundation gives priority to projects and programs that improve the quality of life in the foundation's home city, county and state.