Member News
Member Spotlight: Steve Alley, Ekstrom Alley Clontz & Associates
Friday, February 22, 2019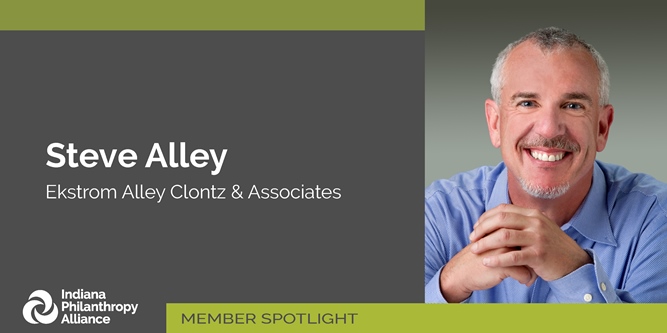 Steve Alley is IPA's newest professional advisor member. He is a managing partner with Ekstrom Alley Clontz & Associates, which is a consulting firm specializing in advising community foundations and dedicated to advancing philanthropy.
How'd you get started in this work?
I got my start in the field of philanthropy in 1992 as the founding executive director of the Community Foundation of Howard County in Kokomo, Indiana. I eventually worked at the Central Indiana Community Foundation as vice president of external relations and was then hired by the IU Center on Philanthropy to help create the first national community foundation training courses.
In 2001, I was recruited to be CEO of the Community Foundation for Southern Arizona. I left there in 2010 to begin my consulting work with what was then Ekstrom & Associates.
What's kept you there?
I always tell people I have the best job in the world. Since my work is mainly in the community foundation arena, I'm always working with people who are trying to make their communities a better place to live, both now and in the future.
What's the most exciting thing happening in your sector?
The fact that there is more of an emphasis today on the impact community foundations are making, rather than simply on building assets.
Who/What inspires you?
Professionally, it's the people I work with and for; personally, it's my kids.
---
Contact Steve
Do you have questions for Steve or ideas for collaboration? You can contact him through:
Phone: 520-531-5567
Web: eac-associates.com
About IPA's Member Spotlight Series
IPA Member Spotlights are written by IPA members who share their personality, purpose, and passion for philanthropy. By following this series, you can connect with peers doing work similar to yours and find opportunities for collaboration. If you're interested in being featured, contact Lissa Silotto.