Member News
Four Prosperity Indiana Members to Receive Empower Indiana Grants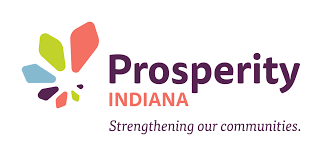 Prosperity Indiana, in partnership with the CareSource Foundation, awarded nearly $100,000 to four nonprofit organizations using innovative approaches to address the social determinants of health through the new Empower Indiana Grant Challenge. 
"This was such an inspiring process to see the many ways our members proposed to improve critical social determinants of health. I'm excited about the variety of initiatives and geographic diversity we see in the projects selected," said Jessica Love, Executive Director of Prosperity Indiana.
Prosperity Indiana is a diverse network of public, private and nonprofit organizations and individuals dedicated to serving low income individuals and advancing comprehensive community development efforts across the state.
Prosperity Indiana will award a total of $95,000 to the following organizations through the Empower Indiana Grant Challenge funded by the CareSource Foundation:
Merchants Affordable Housing Corporation - providing health services through an integrated permanent supportive housing model for homeless families in Indianapolis through a partnership with Raphael Health Center. 
Paramount Schools of Excellence - improving academic achievement and health outcomes by using health data to trigger earlier interventions for students with repeated health incidents in Marion and Rush counties. 
South Central Indiana Housing Opportunities - engaging a volunteer network to provide resources to tenants to help them solve housing problems, thereby reducing evictions and improving housing stability in Monroe County.
United Way of Madison County - developing a network of certified Community Health Workers trained to more holistically address conditions affecting the physical, emotional and financial health of families in Madison County. 
"We are incredibly proud of our partnership with Prosperity Indiana and impressed with the hard work of their members across the state. They are leading the way in social innovation to address critical needs across all communities. This well-deserved grant opportunity shines a bright light on their exceptional efforts," said Cathy Ponitz, Vice President of the CareSource Foundation.
CareSource is a leading nonprofit multi-state health plan serving government sponsored programs and is nationally recognized as an industry leader in providing member-centric health care coverage. Founded in 1989, CareSource administers one of the nation's largest Medicaid managed care plans. Today, CareSource offers individuals and families comprehensive health and life services including Marketplace and Medicare Advantage plans. Headquartered in Dayton, Ohio, CareSource serves nearly 2 million members in Ohio, Kentucky, Indiana, West Virginia and Georgia. 
Love added, "While project after project cited bleak health statistics for the Hoosier state, we believe the impact these four projects will make will not only move us in the right direction, but could potentially also create models for replication statewide."
About Indiana Association for Community Economic Development D/B/A Prosperity Indiana
Community economic development is any local action that creates economic opportunities and improves social conditions, particularly for those who are most disadvantaged. Founded in 1986, Prosperity Indiana is a statewide organization that supports a network of organizations that builds vital communities and resilient families. We advocate for public policies and assist the network in developing comprehensive solutions that engage local leadership to generate private and public investment.