Member News
Fairbanks Foundation's Community Data Snapshot to Accelerate Indianapolis' Progress
Tuesday, February 9, 2021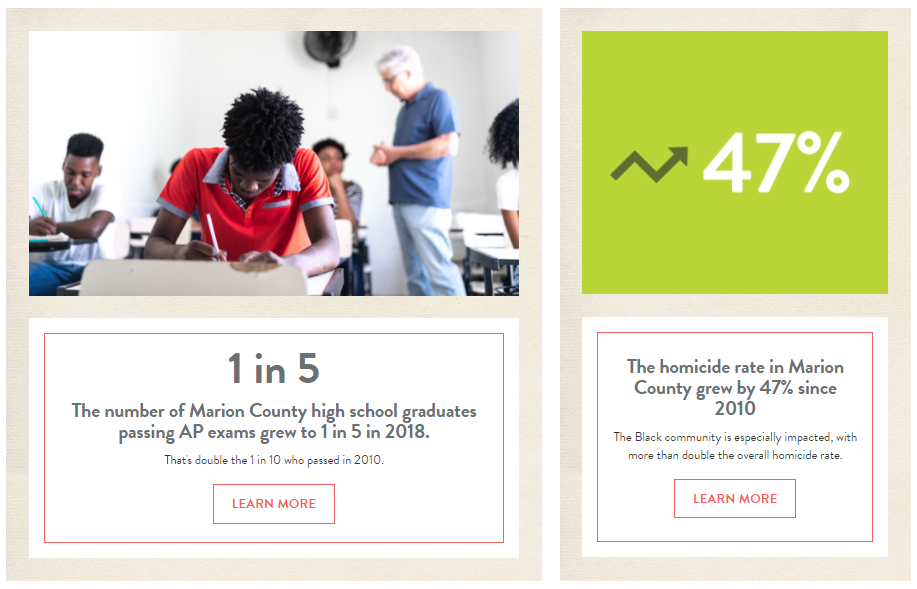 The Richard M. Fairbanks Foundation believes that accelerating progress starts with a clear understanding of the status quo and a willingness to measure and track outcomes over time. To that end, they have unveiled the new Community Data Snapshot, which they hope will support the work of the foundation and their community partners in collective efforts to improve the lives of people in Indianapolis.
As an independent, private foundation, one of the goals of the Richard M. Fairbanks Foundation is to serve as a trusted source of information to support grantees, community partners, and others in their work. Through the Community Data Snapshot, they hope to shine a spotlight on their community's progress and challenges so that together they can work in more strategic and targeted ways to advance the vitality of Indianapolis and the well-being of its people.
What You Will Find in the Community Data Snapshot
The Snapshot provides a streamlined place to find data about pressing community issues across the Foundation's three focus areas: Education, Health, and the Vitality of Indianapolis. In addition to employment data, the Vitality of Indianapolis category includes information on areas such as housing, food insecurity, and criminal justice, all of which intersect with and impact education, employment, and health outcomes. In total, the Snapshot contains almost 200 graphs, with most data spanning the time period from 2010 to 2019. In addition, you will find: 
Demographic information: To provide context for the data presented within our focus areas, we included a section devoted to demographic information so we can better understand changes in population characteristics over time.
Disaggregated, detailed data: The Snapshot presents data disaggregated by race, socioeconomic status, gender, and other characteristics. In addition to accessing data visualizations with topline information, users have the ability to download the graphs and underlying data for in-depth analysis. The data visualizations can also be shared via social media.
Notes and sources: The Snapshot includes notes to explain the data presented, as well as links to original data sources.
The Snapshot will be updated annually to help continuously track progress and identify community needs.