IPA Blog
Member Spotlight: Jerry Finn, Horseshoe Foundation of Floyd County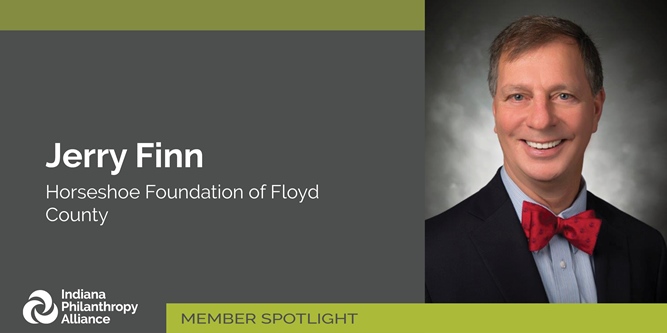 Jerry is the Executive Director of the Horseshoe Foundation of Floyd County. Learn about Jerry's connection with Youth Philanthropy Initiative of Indiana, and hear how social justice struggles from the past inspire his work today.
How'd you get started in this work? 
I was involved with several Lilly programs: Lilly Organizational Renewal, Trustee Leadership Development, IHC Habits of the Heart, and Taking Stock- a ten-year assessment of the Community Foundations initiative.  From there I got involved in starting Youth Philanthropy programs at several community foundations, then became the state coordinator for the Youth Philanthropy Initiative of Indiana.  I have worked for the Horseshoe Foundation since 2002.
What's the biggest impact your organization has made this year?
We have partnered with the City of New Albany on a $5 million project that involves historic downtown façade renewal, streetscape beautification and development of the Ohio River Greenway. The potential for community transformation regarding economic development and quality of life/place is tremendous with this project.
What's your favorite on-screen guilty pleasure? 
I love the new show, "Manifest." I am a huge Josh Dallas fan, and have had the pleasure of having him as celebrity host at dinners at our house numerous times.  He is one of the kindest human beings I have ever met and so humble.  He is a graduate of New Albany High School and a strong supporter of our Education Foundation.  I love going to movies and enjoy many of the PBS programs. 
What's keeping you up at night? 
The political climate, divisiveness, and polarization in our nation is terrifying. 
Who/What inspires you? 
Those throughout history who have risked everything for justice.  The men and women of the Underground Railroad and the freedom seekers escaping slavery.  I have been very involved in the past several years being part of the leadership team helping restore the Town Clock Church and developing the Underground Railroad Gardens on the property. The congregation of the church was actively engaged in helping freedom seekers escape the scourge of slavery before, during, and after the Civil War. 
Your favorite writer/book? 
I love Victor Hugo's "Les Miserables."  I read it nearly every year.  Such an inspiring and transformational story.
---
Contact Jerry
Do you have questions for Jerry or ideas for collaboration? You can contact him using our Member Directory.
About Horseshoe Foundation of Floyd County
The Horseshoe Foundation of Floyd County, established in 1999, has been able to award $47 million to local organizations in Floyd County through the annual grant cycles, scholarships, major grants and small business revolving loans because of the contributions of Horseshoe Southern Indiana Casino.
About IPA's Member Spotlight Series
Follow IPA's Member Spotlight Series to connect with your peers in philanthropy and find opportunities for collaboration. Blogs are written by members who share their personality, purpose, and passion for philanthropy. If you would like to be featured, contact Lissa Silotto.