IPA Blog
Member Spotlight: Erica Fizer, Legacy Foundation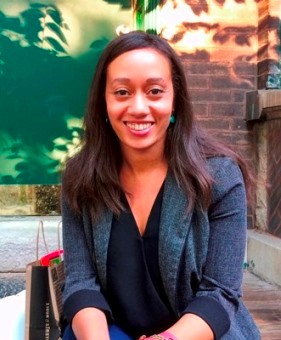 This IPA member spotlight features Erica Fizer, Legacy Foundation's director of marketing and communications, and chair of Indiana Blacks in Philanthropy.
How'd you get started in this work?
In 2010, I graduated from IU Bloomington with a degree in journalism. The economy was struggling and newspapers were cutting staff, so I put my education to work assisting with grant writing and foundation relations at a nonprofit in Chicago. I found it rewarding and decided to pursue a master's degree at Indiana University Northwest (IUN) in human services and nonprofit management. While in graduate school, a professor at IUN introduced me to Legacy Foundation.
What's kept you there?
I love working in the place where I grew up. I have young nieces and a nephew who live in Lake County, and it's important that they have access to the same opportunities that I had growing up. I want to contribute to a vibrant, welcoming, and healthy community for my family and others. Plus, I get to see the best of what's going on in Lake County. Some of the communities we serve receive a lot of negative press, but at the community foundation we get to see all of the people working hard to improve their neighborhoods.
Are you new in your role? Been there a while?
I've been in my director role for a couple of years, but I started at Legacy Foundation in 2012 as an intern funded through the Lilly/GIFT internship program. Then, I served as scholarship administrator and program officer. Each position offered new insight into the community foundation field that's shaped my outlook on philanthropy and the way I communicate Legacy's work.
What's the most exciting thing happening in your sector?
I'm excited about the way that community foundations are listening to and engaging with residents and community groups to inform their work. I think it helps us be better advisors to our donors, shifts the power dynamics between grantors and recipients, and empowers people to get involved. As conveners, one of the best things we can do is help bring new and diverse voices to the table.
What's next on your agenda (workwise)?
I recently became the chair of Indiana Blacks in Philanthropy, an IPA affinity group. I'm very excited for this role, as it allows me to work with other Black philanthropy professionals across the state to support Black people entering the field and connect our work to Black communities. The new leadership team is currently forming goals for the term ahead, and I'm excited to dive into that.
What's happening at your organization?
At Legacy Foundation, we have lots of great things happening. We're working on year three of On The Table, a county-wide civic engagement initiative. We've been incubating a new community development corporation for Lake County, called the South Shore Neighborhood Development Corporation, which launches a series of farmers markets this summer. There are activities around the census and voter education that we're partnering on right now. I'm really eager to see these programs unfold and share them along the way.
---
Connect With Erica
Do you have questions or ideas for collaboration? Reach out using IPA's Member Directory or LinkedIN.
About IPA's Member Spotlight Series
IPA Member Spotlights are written by IPA members to share their personality, purpose, and passion for philanthropy. By following this series, you can connect with peers doing work similar to yours and find opportunities for collaboration. If you're interested in being featured, contact Lissa Silotto.