IPA News
23 Hoosiers Selected for Mutz Philanthropic Leadership Institute 2023 Class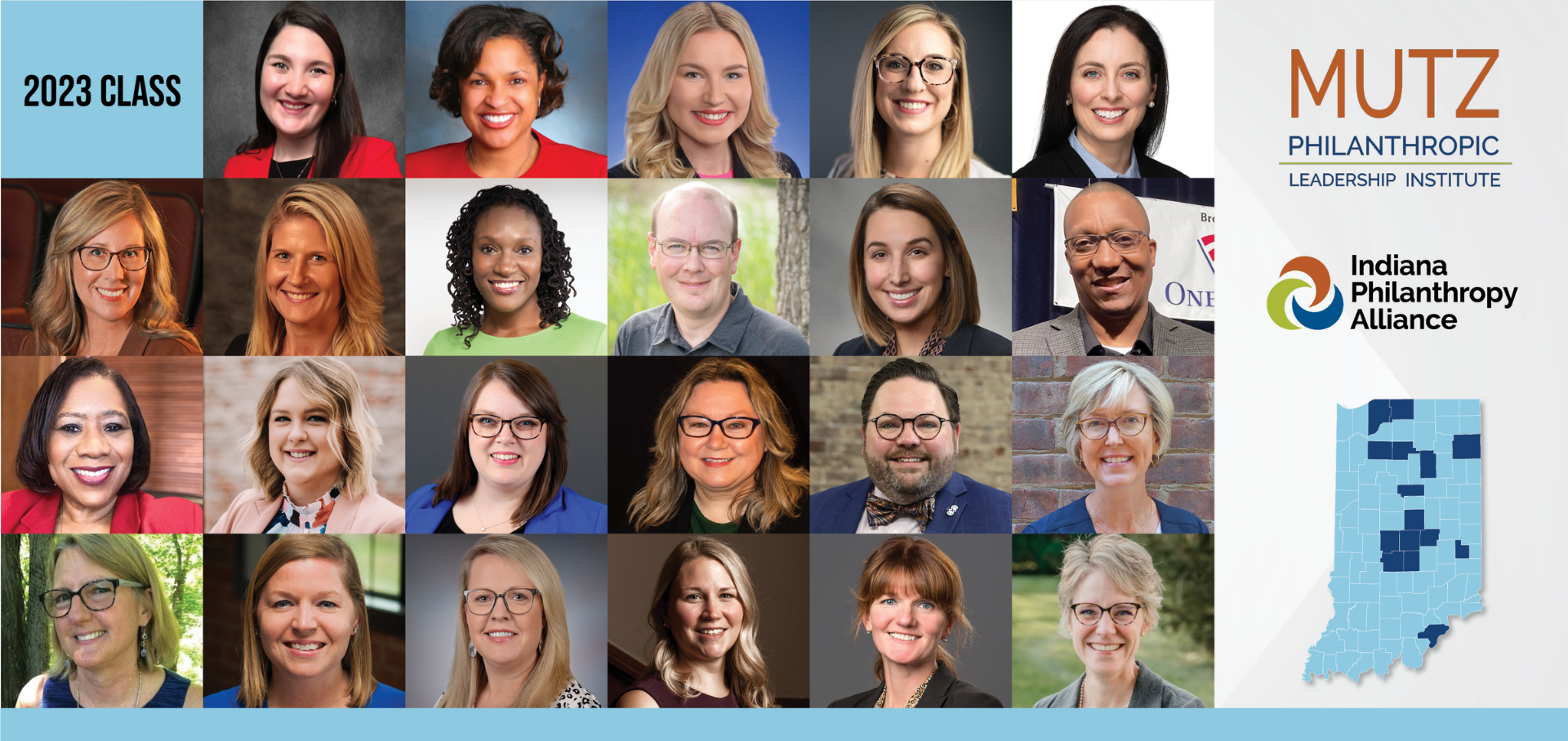 Indiana Philanthropy Alliance announces the 2023 cohort of the John M. Mutz Philanthropic Leadership Institute. With the first class convening in Indianapolis on January 19, the Mutz Institute aims to skill-up professionals serving in board and executive roles at foundations, corporations and social impact organizations across Indiana. 
"We are living through one of the most taxing times in our history, and Indiana must have a new wave of sharp minds prepared to make substantial impact—ranging from education to economic development," said Claudia Cummings, President and CEO of Indiana Philanthropy Alliance. "This program allows us to honor John Mutz, who was integral in the founding of IPA, while developing a talent pipeline of diverse philanthropic leaders."
Classes meet once a month until October 2023. The twenty-three class members hail from fifteen Indiana counties. 
The following have been chosen for acceptance into the class of 2023 Mutz Philanthropic Leadership Institute: 
Emerald Blankenship, Vice President of Programs at Community Foundation of Howard County, from Howard County
Falicia Brewer, President & Senior Consultant at Brewer & Associates, from Hendricks County
Crista Carlino, Director of Development & Communications at Workforce Inc./RecycleForce, from Marion County
Amanda Drakeford, Program Officer at AWS Foundation, from Allen County
Elise Erikson Barrett, Consultant at National Iniative to Address Economic Challenges Facing Pastoral Leaders, from Hancock County
Kara Fulmer, Director of Planned Giving and Grants at Honeywell Foundation, from Wabash County
Crystal Gunther, Vice President of Community Philanthropy at Community Foundation of Southern Indiana, from Clark County
Allissa Impink, Director of Family Philanthropy, Glick Philanthropy at Central Indiana Community Foundation, from Marion County
Brian Johnson, Director of Development at Northern Indiana Community Foundation, from Fulton County
Julia Kaercher, Vice President of Social Impact and Foundation at Merchants Bank of Indiana, from Hamilton County
Allen McClendon, Community Affairs Director at OneAmerica, from Marion County
Tina Patton, Vice President/Director of Non Profit & Foundation Engagement at Indiana Trust Wealth Management, from St. Joseph County
Alexandra Pflug, Executive Director at Fayette County Foundation, from Fayette County
Sarah Stone, Communications Director at Putnam County Community Foundation, from Hendricks County
Bridget Sutton, Director, Development at Indianapolis Motor Speedway Museum, from Marion County
Travis Tester, Chief Development & Communications Officer at Foster Success, from Marion County
Mary Tyndall, Food Insecurity Program Officer & Chief Story Teller at St. Joseph Community Health Foundation, from Allen County
Faith Van Gilder, Chief Officer, Marketing & Development at Girl Scouts of Northern Indi-ana, from Allen County
Stephanie Wagner, Community Development Liaison at Johnson County Community Foundation, from Johnson County
Shannon Walker, Vice President at Unity Foundation of La Porte County, from La Porte County
Bethany Watson, Director of Corporate & Foundation Relations at Gleaners Food Bank of Indiana, from Marion County
Leeann Wright, Executive Director at Community Foundation of Pulaski County, from Pulaski County
Keylee Wright, Executive Director at Kendrick Foundation, from Morgan County
The Mutz Institute is named for former Indiana Lieutenant Governor, past Lilly Endowment Inc. president, corporate CEO and Indiana visionary John M. Mutz.
"For emerging and aspiring leaders in philanthropy, as I was more than a decade ago, the wisdom, practical advice, and example that John offered gave me the skills I needed to succeed," said Jamie Merisotis, CEO of Lumina Foundation and early program supporter.
About John M. Mutz
Born in Indianapolis, John M. Mutz is a graduate of Northwestern University, where he earned both a bachelor's degree and master's degree in advertising and business management. He had a long career in business, including managing a chain of restaurants and serving as president of PSI Energy (now Duke Energy). Elected to the Indiana House of Representatives in 1967 and to the state Senate in 1970, Mutz was instrumental in introducing the set of legislative reforms that came to be known as Unigov, the creation of IUPUI and the White River Park Commission, among others. From 1980-1988, he served as the 45th Lieutenant Governor under Governor Robert D. Orr. Mutz later served as president of Lilly Endowment Inc. and as chairman of the Lumina Foundation board of directors.