Member News
Severe Shortage of Affordable Housing in Indiana Means Families with the Lowest Incomes Suffer Most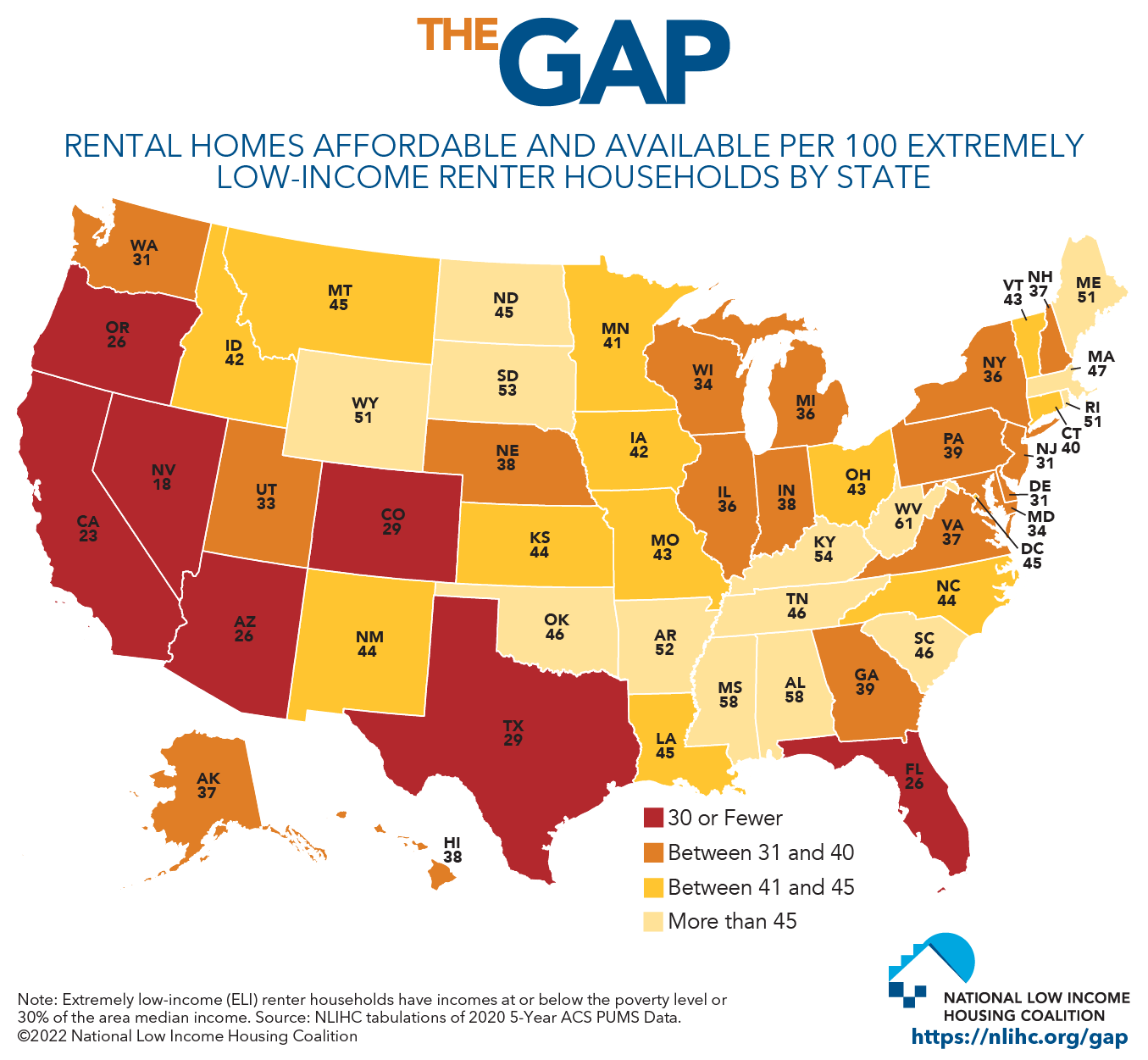 The Gap: A Shortage of Affordable Homes, a new report released today by the National Low Income Housing Coalition (NLIHC) and Prosperity Indiana, finds a national shortage of seven million affordable and available rental homes for the lowest-income households. There are just 36 affordable and available rental homes for every 100 of the lowest-income renter households nationwide. Seventy-one percent of the poorest renter households are severely housing cost-burdened, spending more than half of their incomes on housing, with little left over for other basic necessities. The pandemic has only made things worse. Long-term federal investments are needed to combat this housing crisis for the lowest-income renters. Every year, The Gap reports on the severe shortage of affordable rental homes available to extremely low-income families and individuals.
"Sadly, Indiana now has the single highest housing cost burden among all Midwest states for the lowest-income residents. Compounding this concern is the fact that our state continues to have one of the smallest rates of affordable and available rental units. This lack of affordable housing stock is putting increasing pressure on families struggling to pay their bills and move up the economic ladder," said Prosperity Indiana Executive Director Jessica Love.
Indiana has 38 affordable and available rental homes for every 100 households with extremely low incomes, tied for the fourth-lowest rate in the Midwest and 20th-lowest among all states. Facing a shortage in Indiana of 135,033 affordable and available rental homes, 72 percent of these Hoosier renters are severely housing cost-burdened, the highest rate of severe housing cost burden in the Midwest and 13th-highest in the nation.
Love said, "To relieve the pressures being caused by the state's high housing costs and limited availability, Indiana policymakers must tackle this issue through both increased resources and better public policy. We need to see greater investment in the production of affordable housing for the Hoosiers who need it most, as well as stronger habitability standards and tenant protections to improve housing stability and affordability throughout the state."
The shortage of affordable housing in Indiana affects rural, urban, and suburban counties alike. In no Indiana county is the supply of affordable and available units enough on average for the number of extremely low-income Hoosier households living in that county. According to the most recent HUD Comprehensive Housing Affordability Strategy (CHAS) data1, 51 of Indiana's 92 counties have a lower rate of affordable and available units than the statewide average identified in The Gap 2022 report. These range from a high of 80 units for every 100 extremely low-income households in Crawford County to a low of only 8 units for every 100 households in need in Tipton County. Similarly, Indiana's Midwest-leading severe housing cost burden for the lowest-income households extends throughout the state, ranging from 29 percent of extremely low-income households spending half or more of their incomes on housing in Pike County to 89 percent in Tippecanoe County.
The report shows how these lowest-income renters were uniquely positioned to suffer disproportionately from the effects of lost income and housing insecurity during the pandemic.
Although the federal government took unprecedented actions to protect the lowest-income renters, the government's actions were temporary. Most eviction moratoriums have been lifted and resources, such as federal emergency rental assistance, are running out. Longer-term federal investments in affordable housing are needed to combat the underlying shortage of affordable housing that exposed so many of these lowest-income renters to housing instability in the first place.
"The pandemic has made plain our nation's lack of a housing safety net," said NLIHC President and CEO Diane Yentel. "It is time to invest in long-term housing policies that will finally address the systemic shortage of affordable housing and provide housing stability for the lowest-income families."
NLIHC and Prosperity Indiana both advocate for the adoption of federal legislation to increase housing stability and security.
For additional information, visit: https://nlihc.org/gap