Member News
Our Community Foundation Awards Meal Program Grant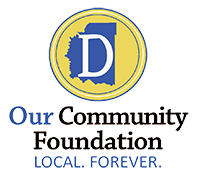 Our Community Foundation has awarded a grant to Senior and Family Services for their Meals on Wheels/Congregate Meal Program.
The grant will be used to purchase cooking equipment, including pans, cookie sheets, and utensils, for the program.
"We provide an average of 85 meals a day, 3 days a week," says Jodi Rook with Senior and Family Services. "We converted unused space in the back of the building to a kitchen and prepare all the meals here."
Rook, along with Laura Greenfield, leads the organization and Judy Bullock coordinates the Meal Program. The three gave a tour of the facility and kitchen to Our Community Foundation Board members, Alex Knepp and Scott Arthur, and Executive Director, Mary Smith, prior to the grant presentation.
"The Foundation is pleased to provide this support," says Smith. "Senior and Family Services is a dependable charitable organization providing a variety of important services. During our visit, their enthusiasm for the Meals on Wheels/Congregate Meal Program was evident. They want the meal experience to be the best it can be for those they serve. And with data from the Indiana Business Research Center predicting that by 2030, one out of every five Hoosiers will be age 65 or older, the number of people they serve will continue to grow."  
The grant was awarded through the Foundation's mini grant program, made possible because of donor gifts to discretionary funds. For more information about the mini grant program or Our Community Foundation, call (812) 698-5413 or visit the Foundation's website at www.localforever.org. To make an online gift to support the Foundation's grant programs, visit https://ourcf.fcsuite.com/erp/donate.
About Our Community Foundation
Through the financial resources of a broad base of donors, Our Community Foundation's mission is to meet the changing needs of Daviess County by fostering a culture of local philanthropy. The Foundation offers individuals, families, and organizations a way to give back to the community by allowing them to establish named funds that forever support charitable organizations, programs, and projects. One type of fund that donors may establish is an unrestricted fund. That fund supports discretionary grantmaking, like the Foundation's Mini Grant Program, and provides flexibility for the Foundation to address bold ideas, emerging needs, and innovative programs. Our Community Foundation's discretionary grantmaking program is directed by a local board and members are Joe Singleton, President; Kirsten Emmons, Vice President; Paula Jones, Secretary; Alex Knepp, Treasurer; Scott Arthur; Chance Berry; Jodi Berry; Merle Callahan; Shannon Dalton; David Frette; Carolyn Jones; Cindy Mason; Linda Myers; Steve Peterson; Dee Ryan; Travis Schaffer; Peg Stephens; and Joe Wellman.