IPA News
The Next Chapter of IPA's Leadership in Youth Philanthropy
Wednesday, February 13, 2019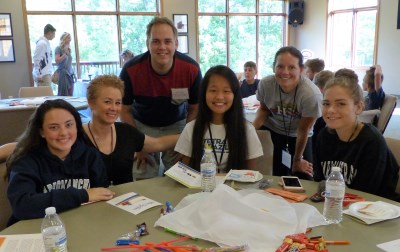 Achieving YPII's Mission
With a goal of fostering Indiana's next generation of philanthropists, a small group of people engaged in youth development came together in 2001 to found Youth Philanthropy Initiative of Indiana (YPII). YPII (pronounced Yippee) continued to grow through steadfast fundraising and a handful of funders motivated by introducing philanthropy to more young people.
In 2003, Indiana Philanthropy Alliance (IPA) became YPII's home. Soon after, YPII's first full-time staff, Eileen Ryan, was selected to serve as the program's director. Over the years, YPII has benefited from committed staff, support of the full IPA organization, and diverse voices from the Youth Philanthropy Partner Network.
For 18 years, Lilly Endowment Inc., has generously served as YPII's largest source of general operating support. Through their support and that of many others, YPII became an early and prominent source for training, trends, and materials for youth and adults working to give time, talent, and treasure for the common good. The program has built a strong local, state, national, and even international reputation as a youth philanthropy thought leader and resource. YPII also helped grow youth councils at more than 30 community foundations.
What's Next for Youth Philanthropy at IPA
In 2019, the goal of YPII founders to foster Indiana's next generation of philanthropists has become a core area of practice for IPA, and is officially part of IPA's mission.
YPII is now ready to move beyond a program of IPA. YPII staff and founders are excited about the potential that comes with discontinuing the YPII brand and more seamlessly fusing youth philanthropy into the lifeblood of IPA. IPA will not only carry forward YPII's mission of supporting youth philanthropy, YPII staff will continue to serve in key IPA roles.
Finding YPII Resources through IPA
Many have come to rely on YPII's tremendous service, support, and resources. IPA will continue to provide the same technical assistance to Indiana's community foundation youth councils and general IPA membership. IPA will also support the existing Youth Philanthropy Partner Network of nonprofits and foundations as an affinity group of IPA, which is open to both IPA members and non-members. Julie Markland will continue supporting youth philanthropy technical assistance, programming, and communications for IPA. Jill Gordon, former YPII Director, now serves as IPA's director of learning.
In March of 2019, YPII social media channels and monthly e-newsletter will discontinue. However, subscribers are encouraged to follow IPA on Twitter and Facebook for the same youth philanthropy news and resources. Existing resources on YPII's website will remain available until content is integrated into the IPA website, which will be the new website for youth philanthropy information in Indiana, beginning March 1.
If you have any questions on where to find YPII resources within IPA, please contact Julie Markland.
IPA is excited to carry forward the torch of youth philanthropy in the same spirit of YPII and its founders.