IPA Blog
More than Funds: Central Indiana Community Foundation Learns by Listening
Central Indiana Community Foundation (CICF) has existed for more than 100 years, but that doesn't mean that our processes are perfect. And honestly, they probably never will be. In fact, a critical element of our foundation's continuous evolution is troubleshooting the obstacles deterring us from making more impactful funding decisions.
I'll get right to the point: In our experience, you can make your foundation's grantmaking process more efficient, resilient, and impactful by actively participating, engaging, and transforming alongside the communities you're serving.
Let me give you some context.
At CICF, our mission is to mobilize people, ideas, and investments to make a community where all individuals have equitable opportunity to reach their full potential, no matter place, race, or identity. With this as our guiding light, our community foundation—as well as its affiliates and funds—hold a strong commitment to fully supporting our community.
In service of this commitment, we have launched new, five-year strategic plans for Marion and Hamilton counties. In Marion County, we will focus on five leadership initiatives that overlap and influence one another: family stabilization, economic mobility, criminal justice reform, neighborhood empowerment and placemaking, and dismantling systemic racism. In Hamilton County, our initiatives include mental health, family and youth empowerment, and inclusive economic growth.
These new strategies are driven by community need and were developed over the course of 18+ months with input from residents, civic leaders, partners, and research. We realized things needed to change in the community and at our organization. Throughout our foundation's long history, some of the needs in our communities have been consistent, while others have changed over time—and many are systemically embedded in our society. Though we have made progress in some areas, people are still being left behind.
For example, Indiana has the 7th worst infant mortality rate in the country. In fact, the infant and maternal mortality rate for African American families is three times the rate of white families. Why is that?
When you pull on one thread, it pulls on an infinite web of interconnected factors significantly impacted by race, such as lack of accessibility, discrimination, racism, and so on. Add on the fact that policies from the past and systems currently in place have widened the wealth gap between the affluent and poor—most profoundly impacting people of color. These obstacles take a toll on the mental and physical health and the vitality of our communities as a whole. We believe that everyone should have equitable opportunities to obtain housing, transportation, and health services, and to live in safe, healthy communities. We believe all individuals should have an opportunity to reach their full potential.
How does this apply to grantmaking?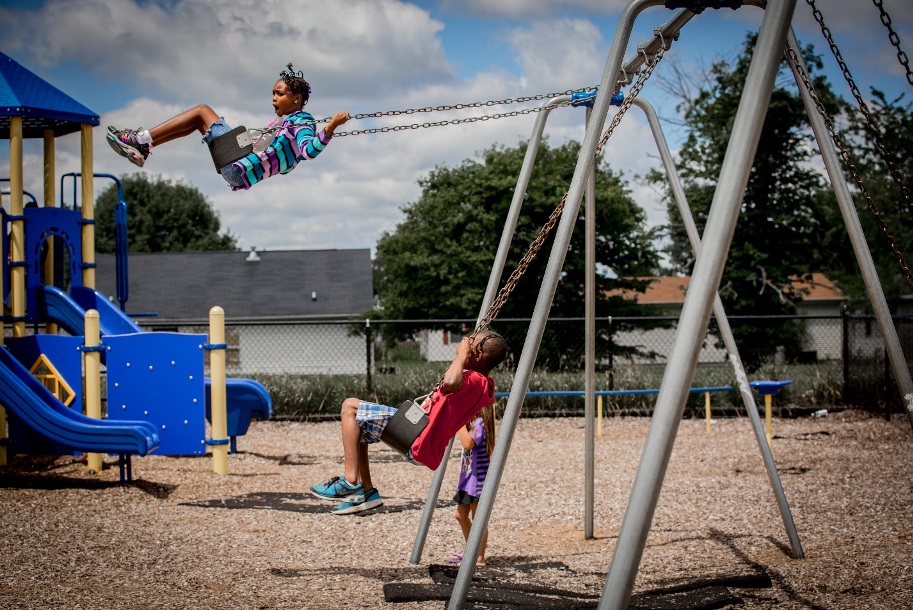 In our grantmaking, we seek to create and enact transformative change that begins to address the root of social barriers. But our equity lens goes beyond dollars out. We think about this in developing our processes, too. We ask specific questions in the application that help us align funding opportunities to organizations and work to eliminate inefficiencies in questions that may serve as a barrier during the application process. And we're listening during conversations with grantees and community members before the application process even begins.
While we're continuously learning and adapting ourselves, I'd like to share with you what we've learned thus far:
Listen to your communities.
We believe communities thrive and are most successful when investments are resident-driven, so we launched an ambassador program. A 2017 cohort of 36 ambassadors influenced and informed our strategic plans. Now, we've re-engaged five highly focused ambassadors with a self-determined vision to connect underappreciated communities with needed resources and social capital through advocacy, urgency, and equity. Our ambassadors listen to neighborhood residents and elevate the assets in their community. The reciprocal relationship creates space for residents to influence neighborhood investments and has resulted in invaluable friendships. The ambassadors and their communities are holding us accountable to our mission
 
Partner with others.
We are committed to transforming the community, but we cannot do it alone. Though as a community foundation we award more than $52 million in grants, only a small portion of that is distributed from our community endowments. A significant portion comes from the field-of-interest funds, scholarships, and donor-advised funds. Our fund holders significantly contribute to and influence the health of our community, and we are excited to partner with them on many levels. Last year, we launched a new system for fund holders that displays information about projects and organizations in the community featuring information aggregated from grant applications in our SmartSimple grants management system. It increases fund holder knowledge about community projects and produces co-investment amongst our fund holders.
 
Look at your reporting on a holistic level.
For example, our Central Indiana Senior Fund, a special interest fund of CICF, accounts for several critical factors during its grant cycle. Advisors first look for organizations specializing in senior services as a primary audience. Secondly, grantees are asked for long-term outcomes and how they are measured. We don't want to know only about the hours of service logged in nursing homes, we want to learn about the quality of mental health as well. How are our music therapy programs helping to heal people? How is Rock Steady Boxing helping seniors with Parkinson's disease? We now use SmartSimple as our grants management system and have gained a clearer picture of all our data as a result. In doing so, we've also eliminated mounds of spreadsheets and paper in exchange for a more efficient grantmaking process that follows through on our unique mission. And we're applying that same principle and accountability to our investments as well.
CICF has the opportunity to step out in a big way and influence our community. We owe it to our residents to support dismantling barriers, especially those systemic in nature. It doesn't matter how many years our foundation has under our belt, or the transformation that has taken place. It's about doing what's right for the people living in our community now and doing better for future generations. That starts by looking inward, at our relationships, our culture, and our processes.
Author: Julie Wright, Grants Processing Associate, Central Indiana Community Foundation