Member News
Member Spotlight: Rachel Goodspeed, Vectren Corporation
Wednesday, January 16, 2019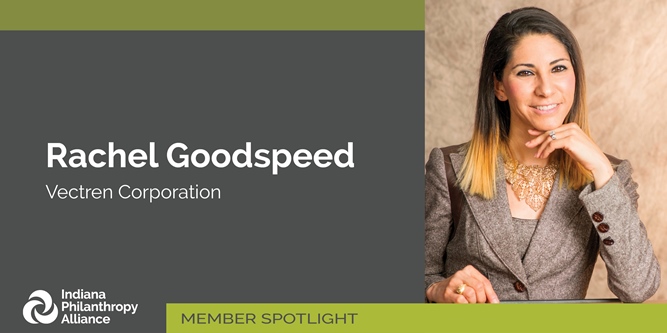 Rachel is the Community Affairs Manager of Vectren Corporation, where she has served since 2014. Through the Vectren Foundation, which invested over $4.2 million in Vectren communities in 2018, Rachel works with over 400 organizations across Ohio and Indiana. She also supports Vectren employee engagement efforts, which contributed over 53,000 volunteer hours in 2018.
How'd you get started in this work?
If you would have asked me in college if I would be doing this, I would've asked you, "What is corporate philanthropy?" I came from a military family and worked on the editorial desk for a daily newspaper in college before getting my commission as a Public Affairs Officer in the Air Force to continue the family's military legacy. I transitioned to federal and state civilian public affairs roles after that before landing at United Way prior to Vectren. All that to say, the combined experience and a lot of luck landed me here. I quickly discovered that many of us in corporate philanthropy rarely have a clear path to it, but what we do have in common is that we are absolutely grateful to use our variety of skills to support and strengthen our communities.
Tell us what you do in your work (pretend I'm a fifth-grader).
When I first started, many thought my primary responsibility was reading through grant requests, giving money to nonprofits, and setting up opportunities for our employees to volunteer. Those are still really important parts of my work because those are vital resources, but what excites me and what I focus on is connecting the dots so the combined effort makes the most impact. I ask myself if there is an organization we should be partnering with, a policy we should be advocating for, or a new solution we haven't tried.
So what do I do? I help organizations build and leverage resources, I cultivate relationships, I gather and share knowledge, I lend my voice to causes and organizations, and as my husband so eloquently puts it, I try to save the world.
What's the most exciting thing happening in your sector?
When corporate philanthropy and social responsibility came on the scene, a lot of time was spent validating the business value and integrating it into organizational culture, from corporate giving to employee volunteering. Today, discussions range from whether or not companies should take a public stand on a social issue, co-creating initiatives with public and private partners to solve major social challenges, to the rise of social impact investing versus traditional grantmaking. It's an exciting time. As CSR (corporate social responsibility) continues to become a part of everyone's role in organizations, we may see our positions shift from Chief Philanthropy Officers to Chief Conscience Officers.
When and where are you happiest?
With my husband. With my kids. Riding my horse. Running. Experiencing the world. When I get to do these together – like travel with my husband and kids to run a race in an amazing place halfway around the world – that's true bliss.
What do you value most about IPA?
The ability to connect with all my philanthropy counterparts to share ideas and knowledge on the issues we're collectively facing in various regions, to collaborate with each other, and simply just to get to know people who are as passionate about this work as I am. Back to the comment about not necessarily having a clear path to this job, organizations like IPA give me the knowledge and resources I need to not only do this work, but excel at it.
What talent or superpower would you most like to have?
I have always secretly hoped I was uniquely blessed with supernatural powers, otherwise known as magic. Think about it – Luke Skywalker, Harry Potter, or my all-time favorite Harry Dresden.
Where are you inviting collaboration these days?
Collaboration is no longer optional – it's essential in order to address social issues in an effective and sustainable way. From improving educational outcomes, to lifting families out of poverty, to establishing sustainable communities, these complex issues require collaborative efforts to leverage organizations' strengths and maximize the impact. Our Community Catalyst initiative, in particular, requires leadership, support, and execution from multiple partners to see progress like we've had in the 8Twelve Coalition in Muncie, Ind.
---
Contact Rachel
Do you have questions for Rachel or ideas for collaboration? You can contact her through:
About IPA's Member Spotlight Series
Our members regularly tell us how much they value networking with other IPA members at our events, but that their busy schedules and broad geographies don't allow them to travel as much as they'd like. To connect more people in our network, we've launched our new Member Spotlight blog series. These blogs are written by IPA members who share their personality, purpose, and passion for philanthropy. By following this series, you can connect with peers doing work similar to yours and find opportunities for collaboration. If you're interested in being featured in our Member Spotlight series, please contact Lissa Silotto.