Member News
Member Spotlight: Linda Speed, Community Foundation of Southern Indiana
Wednesday, March 27, 2019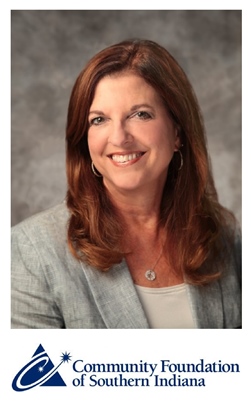 Get to know Indiana Philanthropy Alliance Board Chair, Linda Speed, J.D., the president and CEO of the Community Foundation of Southern Indiana (CFSI).
How'd you get started in this work?
I left the practice of law in 1991 and moved into the nonprofit sector, ultimately finding my niche in the community foundation field because I believe in the power of individual philanthropy to change the world. I was the vice president of Development & Donor Stewardship at the Community Foundation of Louisville for many years, concentrating on developing professional advisor and donor relationships. In 2010, I joined CFSI as the president & CEO.
What's kept you there?
Every day is different. Some days I am working with donors to capture their charitable wishes in a fund agreement that we will have the privilege of carrying out for generations, and other days I am awarding a scholarship to someone who never thought they'd be able to afford college—or making a much needed grant award to a charity that is driving change in our community. There's never a chance to get tired or bored!
Are you new in your role? Been there awhile?
While I have had the pleasure of serving on the IPA board of directors for the past four years, during Marissa Manlove's tenure as CEO, I am new to my role as board chair of IPA. I am excited for the new leadership we have under Claudia Cummings. I look forward to seeing what is next for IPA.
What's happening at your organization?
CFSI has experienced a tremendous amount of growth over the last few years, and we are looking at ways to increase our impact within our community. We are involved in a regional collaborative initiative called Align Southern Indiana, a five-county venture to align all of our resources around commonly-shared community goals and to find solutions to community challenges. It's exciting work, and we are only just beginning to see what the impact will be. We're also transitioning our grantmaking to focus more on quality of place, and that will be a big change for us in our role as a community leader.
When and where are you happiest?
On our houseboat at Lake Cumberland in Kentucky, with family and friends.
What do you value most about IPA?
Connections—meeting and getting to know people that work in this field of philanthropy, as well as our elected officials and others. Learning—always gaining new insights and information through the educational programs IPA offers. Impact—knowing that we can do so much more together as a field than any of us can achieve alone.
What talent or superpower would you most like to have?
I'd like to fly.
---
About Linda Speed
Linda S. Speed, J.D., is the President and CEO of the Community Foundation of Southern Indiana (CFSI). Linda has 16 years of experience in the community foundation field. Before joining CFSI, her nonprofit work experience included serving as the vice president of Development & Stewardship for the Community Foundation of Louisville, vice president of Gift and Trust administration for the Presbyterian Church (USA) Foundation, and director of the Samuel L. Greenebaum Public Service Program at the Brandeis School of Law at the University of Louisville. She is a former litigation attorney with the Louisville law firm of Frost Brown Todd. She received her Bachelor of Science from the University of Kentucky and her Juris Doctorate from the Vanderbilt University School of Law.  
Linda serves on the boards of Indiana Philanthropy Alliance (Chair) and the Louisville, Kentucky-based Center for Nonprofit Excellence. She is also a member and past president of the Southern Indiana Estate Planning Council, the Kentuckiana Partnership for Philanthropic Planning, and the Fund Raising Executives of Metro Louisville. She is a member of the Estate Planning Council of Metro Louisville.
Contact
Do you have questions or ideas for collaboration? Reach out using IPA's Member Directory.
About IPA's Member Spotlight Series
IPA Member Spotlights are written by IPA members to share their personality, purpose, and passion for philanthropy. By following this series, you can connect with peers doing work similar to yours and find opportunities for collaboration. If you're interested in being featured, contact Lissa Silotto.