IPA Blog
Indiana's Tallest Waterfall and Sweet Corn Unite Warren and Fountain Counties During COVID-19
Wednesday, September 9, 2020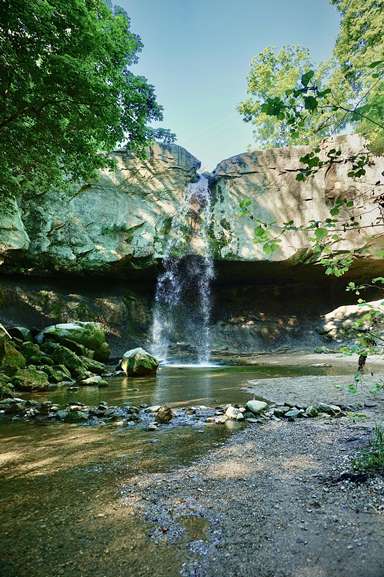 By Michele Stucky, Executive Director, Warren County Community Foundation 
In March, our world as we know it changed. Spring Break plans were one of the first things to be altered. Warren County Community Foundation had just submitted our GIFT VII grant proposal to Lilly Endowment Inc., which requested funding to enhance recreation in Warren County.
The Williamsport Falls, the tallest freestanding falls in the state, has remained relatively undeveloped. Documents as far back as 1964 displayed the community's desire to capitalize on the location as a tourist attraction. The first few steps to finally make this happen were to gather volunteers to create trails and compel the Williamsport Town Council to officially declare the 50-plus-acres a town park. 
Working han-in-hand with the Fountain-Warren Health Department to establish guidelines for volunteers, trail work began. At first, the guidance from the state was social distancing. Family groups were assigned to their own section of woods with guidance as to the direction the trail needed to go. Brush was cleared, and fallen logs and large limbs were used to mark the left and right sides of the newly formed foot trail. 
Before the governor changed the guidelines to the stay-at-home order, 200 hours of volunteer labor had created three-fourths of a mile of brand-new trail. Once the guidelines changed, only a handful of people continued with the trail project. By May, over a mile of new trails were complete, and the three-fourths of a mile of existing and overgrown trail was cleared. At the May Williamsport Town Council meeting, the space was officially declared by resolution as a new town park—Falls Branch Park. 
By mid-May, we were experiencing an influx of visitors that could not be explained by more people exploring nature amidst COVID-19. A local student clued us in. The Williamsport falls had "gone viral." A TikTok video had been created of a female working on her bucket list. One of the items was to shower under a waterfall. Within a week, that video had over 1,000,000 views and people were flooding to the area from all over the region. Many others were posting their own videos and pictures through TikTok, Instagram, and Facebook.
The town of 1,850 people was experiencing as many as 500 visitors per day. The parking lot, which holds about seven cars, would overflow early in the day and cars filled the downtown area. License plates from eleven states and more than 60 Indiana counties were documented. Despite all of the visitors to the area, Warren County has remained the Indiana county with the least number of COVID-19 cases. 
In the meantime, AccuBurn Inc., and the town of Williamsport employees worked to prepare a sign for "The Falls." Up to this point the sign showing the way to the waterfall was about 10 inches tall and 24 inches long—not especially grand for the tallest freestanding falls in the state. AccuBurn donated an amazing 4-foot-tall and 17-foot-long sign made of Corten and stainless steel. It was so large and so heavy that excavators had to be used to lift it. Falls Branch Park now has a worthy sign and more improvements continue to be made.
The second project the Community Foundation facilitated was Victory Garden kits. The Warren County Community Foundation teamed up with the Fountain-Warren Health Department and Western Indiana Foundation in the spring to create the Victory Garden kits. As soon as the pandemic started, the local health department doctor said that families growing their own gardens would be a good idea. Worst case scenario: Our food supply chain might have been altered by the pandemic and families would actually need the food. Best case scenario: Families spending time together gardening would be good for their physical and mental health, as well as providing a science lesson during at-home e-learning. 
There were 445 Fountain and Warren County families who took advantage of the Victory Garden project, and each received a goodie bag filled with seeds, peat pots, soil, and planting instructions. There were 28 varieties of seeds, onion sets, and seed potatoes in each kit. The bulk seeds were separated into individual baggies by 4-H families.
Safety was always considered. There were specific guidelines set forth by the health department for how many days the baggies of seeds had to sit to allow the virus to die on the surface before they could be distributed. Each packet of seeds had a color-coded label with its name which corresponded to one of the sets of planting instructions. Some seeds need to be started inside in late-March. Others could be planted straight in the ground much later. Families signed up for a kit on a Google form. There were several pick up dates at the Warren County Community Foundation and Fountain-Warren Health Department. Families would get their kit in a drive-up style manner, as to not expose them to additional people. Gloves and masks were worn when handling all the kits. 
One item missing from the seed kits was sweet corn seed. It is not that easy to grow just a couple of tiny rows of sweet corn at your home garden. The wind becomes a factor, along with animals who want to eat the produce from the garden. Not to mention that sweet corn takes more room to grow, and with so many other varieties for novice gardeners to try to grow at home, it simply wasn't practical to include sweet corn seen in the kits. However, four local farmers graciously donated sweet corn seed, their ground to plant it on, and even planted it for the project. The only thing left to do was for the farmers to watch it and let the Foundation know when it was ready to pick. This is where the next group took the lead.
High school students on summer vacation, along with a couple of their teachers and a few community members, would meet at the sweet corn field to pick. A crew of about ten workers could pick a heaping pick-up truck load in two hours. Then, the load of sweet corn was driven to the Williamsport Park or—in one case, the Fountain-Warren Health Department—for victory gardeners and community members to come and take one-dozen ears for free! 
There were four different occasions where loads of sweet corn were up for grabs. Word traveled fast and many different community members were able to capitalize on this. Over 350 dozen ears of corn were given to the community in this way. Some people insisted on giving a donation, and those proceeds went to A Better Way Food Co-Op, along with about 100 dozen ears of corn. About 75 dozen ears were donated to the Mobile Food Pantries. The entire project was a collective effort of many groups and individuals working together.