Member News
FCCF Awards Pop-Up Grants
In celebration of its 25th anniversary, the Fulton County Community Foundation (FCCF) is awarding pop-up grants to nonprofits in Fulton County. Since January, the Community Foundation has given a total of $15,500.00 in pop-up grants.
The most recent pop-up grant was given to Fulton County Pack-A-Backpack. This organization received $1,000 to aid children throughout the community in need of school supplies for this upcoming school year. Fulton County Pack-A-Backpack holds an annual event to allow families in need to come and receive a backpack and school supplies for their children.
Additionally, the FCCF awarded $1,000 to Retired Seniors Volunteer Program (RSVP). RSVP is a program that engages people 55 and older in volunteer service to meet critical community needs.
Previous pop-up grants awarded this year have supported the following: Fulton County 4-H, Libraries in Fulton County, Akron Fourth of July Committee, Psi Iota Xi, Manitou Training Center, Aubbeenaubbee Township Improvement Corp, Rochester Youth Baseball League, Rochester Girls Softball League, Akron Youth League, Kewanna Youth League, Caston Athletic League, Rochester Summer Parks Program, CAMP-WE-CAN!, and CASA of Fulton County.
The FCCF believes that organizations such as Fulton County Pack-A-Backpack and RSVP help to create positivity within the community. Through these grants, the FCCF hopes to further fulfill its mission of providing support to charitable nonprofits and projects in our community.
The Fulton County Community Foundation is an affiliate of the Northern Indiana Community Foundation, Inc., a 501 (c) (3) public trust. The mission of the Community Foundation is to improve the quality of life in our communities by assisting donors in fulfilling their charitable wishes. We do this by building endowment funds for our communities with contributions, both large and small.
For more information, contact the Northern Indiana Community Foundation toll free at 877-432-6423, or Brian Johnson at the Fulton County Community Foundation at 574-224-3223.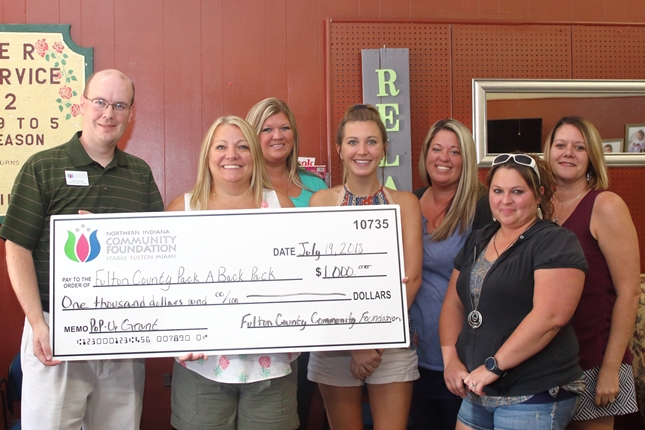 Pictured from left to right: Community Foundation Director of Development Brian Johnson, Fulton County Pack-A-Backpack organizers Jacki Johnson, Mandy Miller, Emili Johnson, Jessica Webb, Kelly Wolf, and Jenifer Bright.