Member News
Community Foundation of Boone County Awards Matching Grants to 18 Local Nonprofits
Monday, September 28, 2020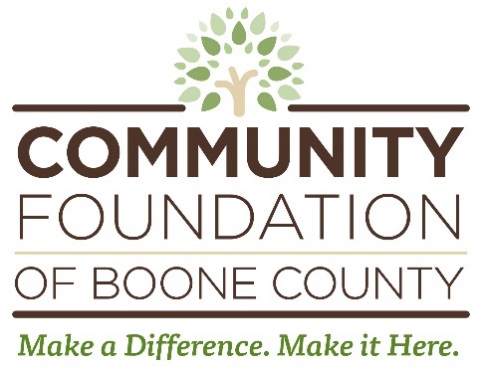 The Community Foundation of Boone County (CFBC) recently surveyed nonprofit organizations who serve local Boone County communities. 92% of nonprofits reported lost revenue due to COVID-19. 65% now have new, permanent costs due to the pandemic, such as cleaning supplies and technology costs. With revenue down and costs up, 60% are experiencing an increase in demand for services due to COVID, including mental health services, child abuses cases, food programs, and outdoor activities. The greatest reported need is financial assistance.
When looking at how the foundation should focus grantmaking for the rest of the 2020 year, the CFBC board of directors and staff launched a community-wide grant program to meet the broad, increased needs in Boone County caused by COVID-19. The initiative consists of two components: $150,000 in unrestricted, immediate grants to three Boone County school corporations, and a Community Match Grant Program for Boone County nonprofit organizations. The goal of the Community Match Grant Program is to support several Boone County nonprofits who have experienced lost revenue and increased expenses due to the COVID-19 pandemic.  
18 nonprofits applied for the Community Match Grant Program and, due to current and past generous donors, CFBC is able to award the matching grant in various amounts to all 18 applicants. The participating organizations have between October 1- December 31, 2020 to raise their matching amount.  
"We are so blessed today to stand on the shoulders of the generosity of those that came before us and link arms with 18 of our beloved nonprofits to help them weather the storm of the COVID-19 pandemic", said Jodi Gietl, President & CEO for the Community Foundation of Boone County. "This is how our local communities comes together to survive this crisis. The Community Foundation of Boone County remains resolute in our commitment to serving the 67,000 residents of Boone County today and beyond."
Now is the perfect time for community members to support the nonprofits who work so diligently and intently to keep the residents in our communities safe and healthy. Every dollar donated to the participating nonprofits directly will be matched, up to the maximum amount awarded. 
The 18 nonprofit organizations participating in the matching grant are:
Black Box Theatre Co., Inc.
Boone County Cancer Society
Boone County Mentoring Partnership
Boys & Girls Club of Boone County
Brick Street Poetry Inc.
Center Stage Community Theatre
House of Grace
Humane Society for Boone County
Hussey-Mayfield Memorial Public Library Foundation
ICAN
Maplelawn Farmstead
Mental Health America in Boone County
Morning Dove Therapeutic Riding Inc
Sylvia's Child Advocacy Center
The Caring Center
Witham Family YMCA
Zionsville Center for Art, History and Geneaology, Inc. (d/b/a SullivanMunce Cultural Center)
Zionsville Lions Park
To date, the Community Foundation of Boone County has granted over $220,000 to Boone County nonprofit organizations and schools working to support residents, families, and communities impacted by the pandemic. CFBC is currently in a matching gift campaign with Lilly Endowment, Inc., which will add $2 million to our permanent funds – which translates to more grants awarded out to the community every year. CFBC has less than $95,000 left to raise by September 2021. Gifts made to our Boone County Community Impact Fund are tripled through this matching opportunity. Gifts of $100 become $300, $1,000 become $3,000, $5,000 become $15,000. To join this campaign, give online at www.giveboonecounty.org.