Member News
Community Foundation awards John G. Blakesley Mathematical Excellence Scholarship for 8th graders
(Elkhart, Indiana) Community Foundation of Elkhart County has awarded the sixth John G. Blakesley Mathematical Excellence Scholarship for 8th graders to Reesha Bhagat.  Reesha is the daughter of Poorna and Dicky Bhagat. She is a graduating eighth grade student at Bethany Christian School.
This is a renewable scholarship applied toward a four-year degree at an accredited United States college or university following Reesha's high school graduation. The John G. Blakesley Mathematical Excellence Scholarship for 8th graders awards $1,250 a year for each of four years for a total award of $5,000.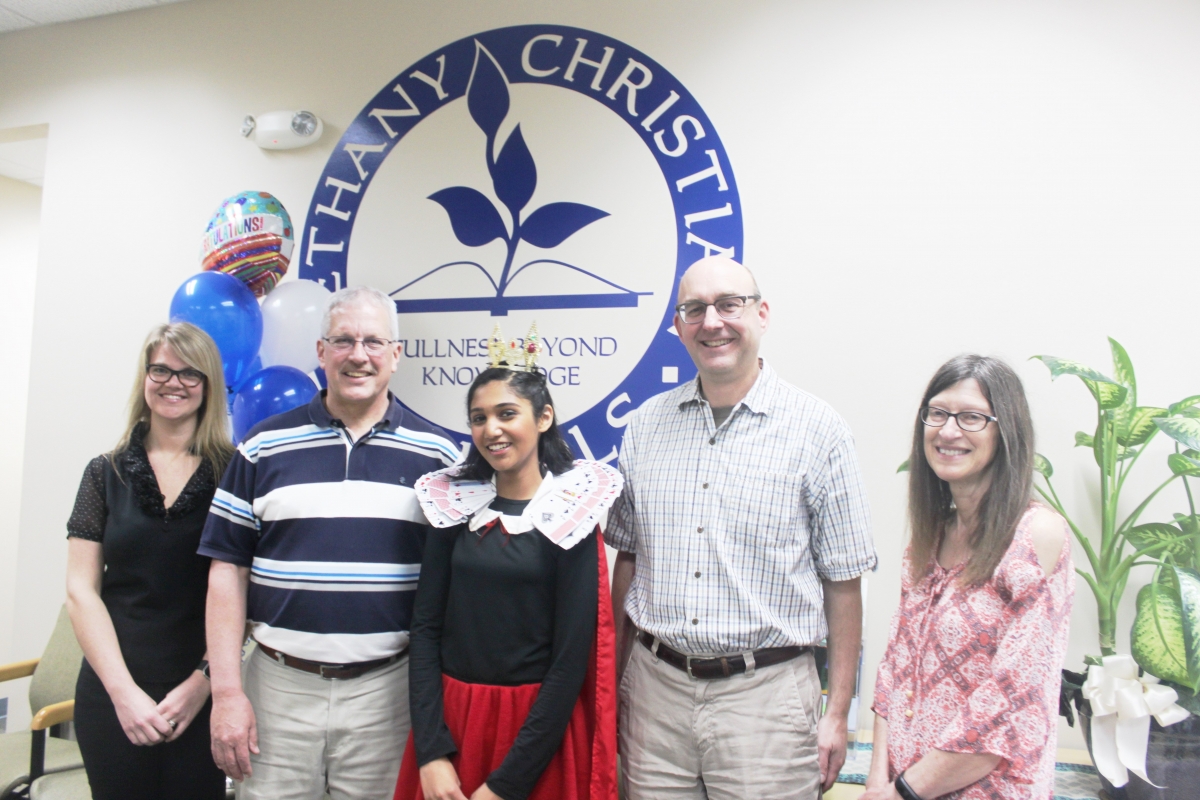 PHOTO (from left to right) Samantha Lambert, Community Foundation of Elkhart County; Jim Buller, Bethany Christian School Counselor; Reesha Bhagat, John G. Blakesley Mathematical Excellence Scholarship for 8th Graders recipient; Tim Lehman, Head of School; Cheryl Weaver, niece of John G. Blakesley.
Each public and private middle school/junior high in Elkhart County was invited to nominate 1 student that demonstrated exceptional aptitude in mathematics and completed math honors coursework.  Nominees were evaluated on the basis of academic performance (including grades and course load), extra-curricular and civic involvement, career goals and unusual circumstances.
A new recipient will be selected every year and, as the fund increases, so may the number and amount of future awards.
About John G. Blakesley
John G. Blakesley was born in Goshen, Indiana in 1931 to Wayne and Thelma Blakesley. He was raised in Syracuse and attended New Paris High School where as a freshman he won numerous math awards. After moving to Ft. Wayne with his family, he graduated from Ft. Wayne Central High School in 1949, where he again won numerous awards in mathematics.
Blakesley graduated from Yale University in 1954, majoring in economics and political science. Most of his professional career was spent working for the J.C. Penney Company, starting in the Chesapeake Bay area and then in Los Angeles. He later moved to New York and Brussels, Belgium where he was a Systems Consultant for the company. After his retirement, Blakesley returned to New Haven, Connecticut to become a docent for the Yale Center for British Arts, working with third grade students. He died in Baltimore, Maryland in 2011.
Elkhart County resident Cheryl Weaver, Blakesley's niece who was executor of his estate, explains her uncle's charitable intentions in this way: "My Uncle John valued education, and he worked very hard to pay his way through college. The education he received help pave the way for him to enjoy the many things he was lucky to do in life. He wanted to make sure others had the same opportunity."
"Because of this, he asked me to create two scholarship funds for the youth in Elkhart County because this is where I went to school, and I selected the Community Foundation of Elkhart County to implement his wonderful gift. It is a great honor to personally be involved in my Uncle John's legacy. "
About the Community Foundation of Elkhart County
Community Foundation of Elkhart County partners with donors to leverage their philanthropy in ways that transform lives. Since 1989, the Community Foundation has connected the generosity of donors with community needs by providing scholarship opportunities to local students and making grants to nonprofit organizations working to improve Elkhart County.  The Community Foundation has awarded approximately $96.8 million to more than 400 local nonprofit organizations, including more than $18.4 million in fiscal year 2017.  It is with strength and hope the Community Foundation seeds the local landscape, supporting plans, programs, and ideas that potentially stand the test of time.  The Community Foundation strives to be a local entity known for inspiring good and impacting success. 
To learn more about the Community Foundation and its services, go to www.InspiringGood.org.