Member News
26 Scholarships awarded at Porter County Community Foundation Annual Banquet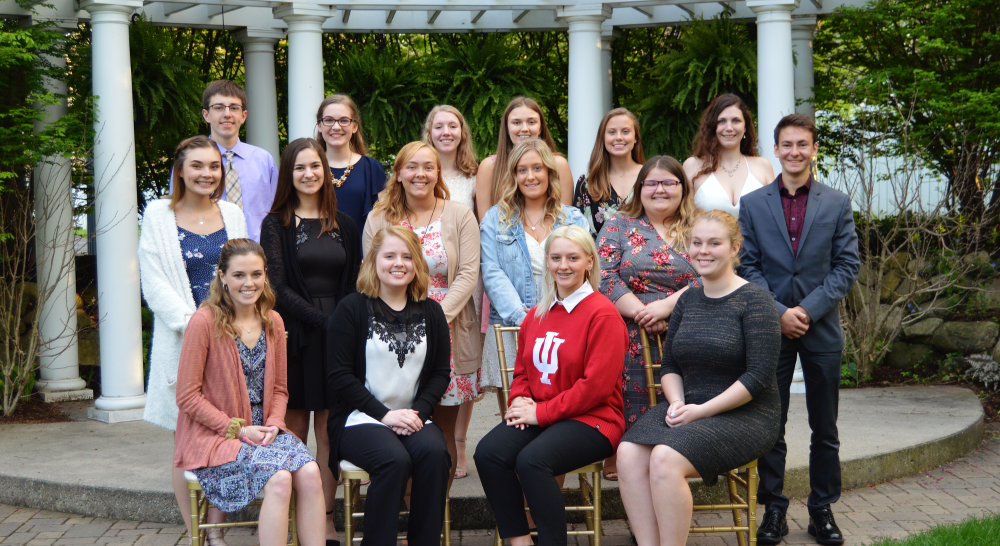 On May 9th, 2019, twenty-six high school seniors received a scholarship at the Porter County Community Foundation's Annual Scholarship Banquet.
Since 1998, the Foundation has presented 382 scholarships to students from all over Porter County.
Lilly Endowment Community Scholarships were awarded this year to Aidan Aubuchon of Portage High School, Emma Johnson of Indiana Connections Academy and Vanessa Cardona of Valparaiso High School. This scholarship pays full tuition and fees to any college or university in the state of Indiana, as well as $900 each year for books. Since inception, the Foundation has awarded 85 Lilly Endowment Community Scholarships, totaling over $4 million. These scholarships are the result of a statewide initiative by Lilly Endowment Inc. to help raise the level of educational attainment in Indiana and support Indiana's community foundations in their mission to enhance quality of life.
The Porter County Community Foundation awarded $4,000 scholarships to Jenna Dawson of Michigan City High School, Ashley Sutton of Indiana Academy and Sarah Smith of Chesterton High School.
Porter County is fortunate to have businesses and individuals who value the importance of education. Thanks to the generosity of NIPSCO, the Plesac Family Scholarship Fund, the Larry and Jerilyn Klemz Scholarship Fund, the Largura Family Scholarship Fund and the Tom and Alice Roberts Scholarship Fund, a $1,000 scholarship was awarded to Allison Hano of Hebron High School, Emily Zoll of Boone Grove High School, Jillian Burton of Washington Township High School, Haley Ruiz of Wheeler High School, Alannah Hodges of Morgan Township High School, Kaitlyn Steele of Valparaiso High School, Molly Slatcoff of Chesterton High School, Sanja Kirova of Portage High School and Grayce Beach of Kouts High School.
Each year, the Porter County Community Foundation awards $1,000 scholarships to students who attend the Porter County Career and Technical Center. The recipients for this year are Lauren Drang, Thomas "Jay" Edwards, Roury Farnum, Haley Jackson, Alicia Kleckner, Cameron Tharp, Lauren Yates and Abbigail Stram.
Three special scholarships were created as a legacy for the person or family whose name they carry and will last into perpetuity. The Harlan A. Siegesmund Liberty Township Alumni Scholarship was awarded to Ethan Snowdin of Chesterton High School.  This scholarship was established by the Liberty Township High School Class of 1958 to honor their long-time principal Mr. Siegesmund. The Tom and Georgia Bricker Scholarship was awarded to Holly Kuebler of Kouts High School. This scholarship was created by Georgia, a school teacher, to honor her late husband Tom. Lastly, the Shawn Moyer Memorial Scholarship was awarded to Olivia Konchar of Kouts High School. Shawn Moyer was a 1999 Lilly Endowment Community Scholar who passed away during his sophomore year at Taylor University. Lilly Endowment and the Foundation endowed the remaining balance of Shawn's scholarship to create this award for graduates of Kouts High School.
Gather. Grow. Give. For Good. The Foundation works to inspire enduring generosity and kindness in our community. Learn more at www.pccf.gives.