Member News
Wayne County Foundation Leader to Retire at Year-End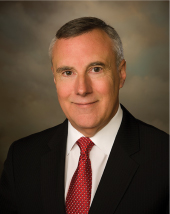 The Wayne County Foundation announced today that Steve Borchers, its long-time executive director, will step down at the end of 2019.
Borchers joined the Foundation staff in 2005, bringing with him years of experience in fundraising and not-for-profit management. Since then, the organization has seen significant growth in its asset base and its level of annual distributions. The foundation also developed its popular Challenge Match initiative, which has helped generate more than $8 million for Wayne County charitable organizations over the last eight years.
"This has been a wonderful career opportunity," Borchers said. "I have thoroughly enjoyed working with the Foundation's donors, grantees, staff, and community partners to help support a wide range of charitable interests and drive positive change. There's no other job like it."
Board Chair Amy Noe Dudas will lead a search committee to identify a successor.
"The Foundation and our community have been so fortunate that Steve was the right person for the position over the past 14 years. Our challenge now is to find the right successor who will guide us in navigating the challenges to come within the solid framework of the Foundation's mission. We're already hard at work and have a dedicated team ready to do just that," shared Dudas.
Information about the search process and the requirements of the position will be posted on the foundation's website, www.waynecountyfoundation.org, as soon as it is available.