Member News
Wabash Valley Community Foundation & Affiliates Provide $375K in Community Grants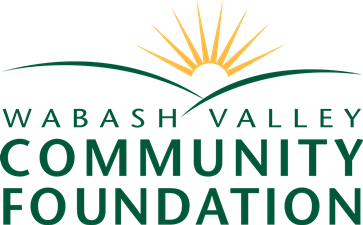 The Wabash Valley Community Foundation will award a total of $374,822 in community grants to nonprofit organizations in Clay, Sullivan and Vigo counties.
"Approximately 28 nonprofit organizations, six in Clay, nine in Sullivan and 13 in Vigo, have received, or will receive, funding during each county's grant awards this month," explained Kelli Miller, Program Director for the Wabash Valley Community Foundation. "These awards are the result of our Summer Grant Cycle, in which local volunteers from each county reviewed Letters of Intent, invited select organizations to submit full proposals, conducted site visits and recommended funding based upon the available grant dollars."
On October 5, the Community Foundation's Sullivan County affiliate awarded nearly $84,000 on the sundeck of the newly reopened Sullivan City Pool. The Pool, which had received funding from the Community Foundation in a previous grant cycle, served as a backdrop for the event and a terrific example of how communities can flourish through the generosity of others.
"One of the main reasons [Sullivan] is amazing is because the Wabash Valley Community Foundation continues to partner with the City of Sullivan and our local Sullivan County communities," said Clint Lamb, Mayor of the City of Sullivan and speaker for the event. "The Sullivan City Pool was a spectacular venue for the awards ceremony…[especially] since the Community Foundation's Sullivan County affiliate made sure that the Pool's Lilypad Walk became a reality."
Today, the Community Foundation held its Fall Grant Awards for Vigo County at a luncheon at The Country Club of Terre Haute. Over $195,000 was awarded to 13 Vigo County nonprofit organizations to support arts and culture, community development, health and human services, and education.
"These grant recipients have identified important projects and programs to address issues such as job training, workforce development, addiction recovery, historical restoration and more," said Beth Tevlin, Executive Director of the Wabash Valley Community Foundation. "It is thanks to the foresight and generosity of countless individuals and families that we are able to provide our nonprofit partners with the resources and funding to help them maximize their impact and enrich the lives of residents in our service areas."
Funding allocations for the benefit of Vigo County were awarded to the following 13 organizations:
Blood Services Vigo County - American Red Cross - $5,000 – in support of blood drives in Vigo County, the number of which they plan to double
Terre Haute Chamber of Commerce - $15,000 – Business Concierge Hospitality Training Program
Art Spaces - $25,000 – Lost Creek – Celebrating the Story of an African American Settlement, a new sculpture in Deming Park
Arts Illiana - $7,500 – in support of art exhibitions and workshops for local artists (an underserved area in Vigo County)
Chances and Services for Youth - $20,000 – program support for Big Brothers Big Sisters; this is a $1/$1 matching grant
Vigo County Historical Society - $25,000 – restoration and repairs to the Paul Dresser Home
Catholic Charities - $10,000 – employee security training
Reach Services - $25,000 – technology and education expansion for Pathways (a drop-in support space for those needing to access resources and assistance)
Saint Mary of the Woods College - $20,000 – ADA upgrades to the SMW Conservatory Auditorium, a space utilized by the public for a variety of events
United Way of the Wabash Valley - $20,000 – launch of the African American Board Leadership Institute
Linda Luebke Strings Festival - $5,000 – scholarships and program expenses for the two-day strings' festival involving youth from throughout Vigo County
Intrepid Phoenix - $14,600 – in support of Fitness for Recovery (a substance abuse disorder recovery program)
12 Points Brown Bag Project - $3,000 – for nutrition and hygiene items provided to residents of two public housing units on Terre Haute's north side.
The Fall Grant Cycle for Vigo County will open on Saturday, October 15, at wvcf.org/grantapplicationforms. Grant-seeking community groups and nonprofit organizations in Vigo County must submit Letters of Intent by November 15, 2022.
The Community Foundation's Clay County affiliate will award nearly $96,000 to six nonprofit organizations at 6 PM on Oct. 27, 2022, at Honeysuckle Hill Bistro.  Additional information can be obtained by contacting the Community Foundation at 812-232-2234. 
The Wabash Valley Community Foundation is a tax-exempt public charity created by and for the people in the Wabash Valley. The Community Foundation enables people with philanthropic interests to easily and effectively support the organizations and issues they care about – immediately or through their estate plans. Donors may give to existing funds or establish a charitable fund at the Community Foundation by contributing a variety of assets. For information about contributing to an existing fund, creating a new fund to support your charitable goals in perpetuity, or for guidance on how to apply for grant funding from the Wabash Valley Community Foundation, please contact the Community Foundation at (812) 232-2234.