General News
Using a Boat to Build Relationships
Wednesday, February 1, 2017
By: Marshall King
Marshall V. King is a freelance journalist based in Goshen, Ind. He wrote this article for the Community Foundation of Elkhart County.
On Saturday mornings, teenagers get out of bed early to help Jay Burt.
The volunteer is building a boat with some of the young people at Bashor Children's Home, a facility for troubled kids. Since October, he's spent at least three or four hours nearly every Saturday with whomever comes to build a 15-foot wooden sailing skiff. Their goal is to have it on the water this spring or summer.
He may be the first shop teacher at Bashor. He'll be the first sailing instructor too.
Burt retired from the U.S. Navy, six years on active duty and 16 as a reserve. He built a successful electrical contracting business. His children are grown. He's a Christian and feels compelled to give back. "I think I'm very blessed," he said. "There's more to something like this than making the extra buck. Something's expected of you."
Writing checks to support causes is important, but easier than giving time. He had a growing sense that he needed to show up and give time at Bashor. He lives several miles away and for about two years felt the tug when he drove past. One Sunday morning on his way to church, he saw staff pursuing a resident and thought, "I'm supposed to be there."
He made the commitment in October to start building a boat with the young people staying at Bashor. He's donated materials and Bashor raised some of the $3,500 needed.
The 53-year-old didn't know how it would go to teach woodworking and principles of sailing. "I like to show them tools, the handling of tools, help them get their hands on some stuff," he said.
As they work together, the young people share with Burt and assistant Collin Eicher. "They open up. They know Jay is giving back and that he cares," said Sean McCrindle, vice president of program operations.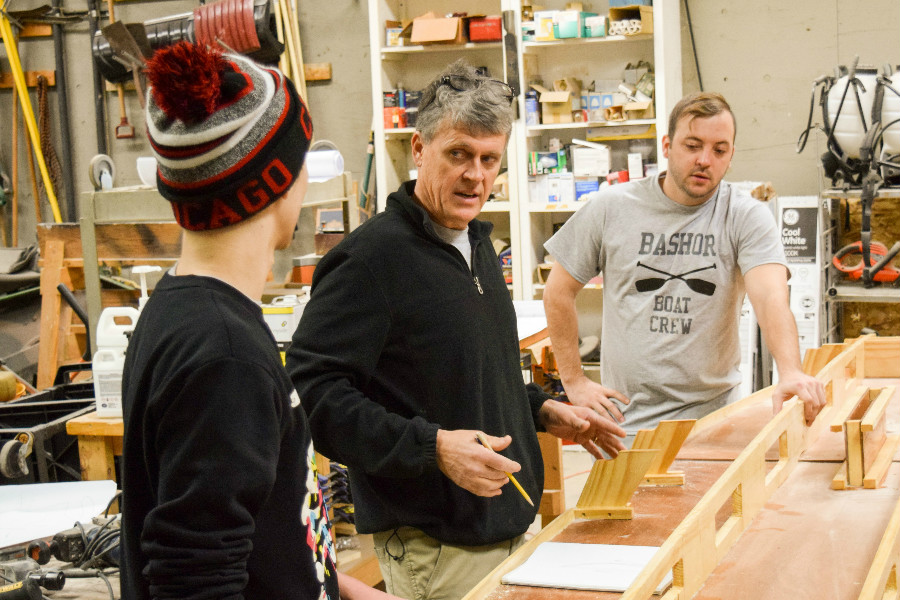 One young man who's worked on the project said it means a lot that Burt and Eicher give time. "They just act like they are hanging out and building a boat, but I know they are here because they want us to know that we are cared about," he said.
Another young man has latched on to the notion that Burt taught about a sail needing to be strong and flexible. "I remember Jay talking about the types of trees they get the masts from and that they have to be trees that are both strong and flexible because if they are just strong they break and if they are just flexible they can't stand up to the wind. I realized that I have to learn to be both if I am going to be good at what I do and be a dad who my daughter can be proud of. Strong but flexible to stand up to the world and learn from difficult times," the teen said.
When he started, it was about building a boat. Burt has liked to tinker with them, but as he worked with the young people, the process tinkered with his heart. The project is now more about building relationships. The boat is just another tool now, he said.
Don Phillips, president/CEO of Bashor, said nearly all the young people Bashor serves are missing at least one of their parents as an active force in their lives. For them to get out of the valley, a mentor can make a huge difference. "If they get there, there was probably a significant adult who took an interest and played a role," he said.
Others in the community can step up as Burt did to share a hobby and show they care. "It's not going to drain you. It's going to fulfill you," he said. "Guys have to be willing to try."