IPA Blog
Sustaining the Success of Indiana's Pre-K Program
Monday, February 22, 2021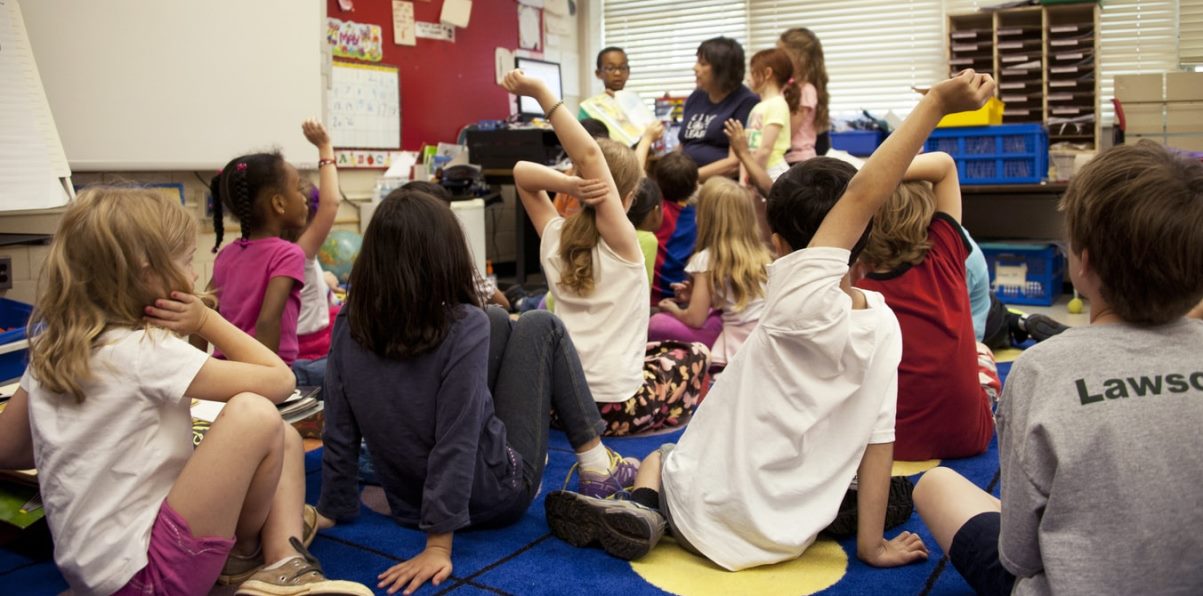 Early Education Works, formerly known as All IN 4 Pre-K, has grown dynamically since its lobbying effort to increase funding for prekindergarten education during the 2017 General Assembly session. That effort successfully expanded Indiana's On My Way Pre-K program for low-income children with an investment of $22 million per year. Today, this statewide, bipartisan coalition of state and local chambers, philanthropists, employers, academia, nonprofits, early care, and education experts in Indiana continues its targeted efforts to sustain and strengthen Indiana's pre-k programs in partnership with the General Assembly and the Family and Social Services Administration (FSSA). Indiana Philanthropy Alliance is proud to be an active member of this coalition.
The goal—to support and stabilize Indiana's fragile early childhood education (ECE) sector—is especially significant given the economic toll of COVID-19. This lack of high-quality early education proves particularly detrimental to low-income families. Without access to trustworthy, consistent childcare, these families may be forced to forego working. 
Even before COVID-19, the annual direct costs of childcare disruptions to employers across the state was a staggering $1.8 billion. This has only become more pronounced with COVID-19. 
Anna Valentine, the vice president of government relations for United Way of Central Indiana, remarked on this issue, stating, "the COVID-19 crisis has proven that early childhood education is the backbone of Indiana's workforce, and our economic recovery depends on the availability of safe, quality and affordable early care and education." 
Aware of the economic impacts caregivers face when unable to provide their children with a dependable learning environment, Early Education Works advocates for better access to safe, quality, and affordable ECE. Such access will help Hoosiers get back to work and move us forward from the economic toll of the childcare crisis. 
About On My Way Pre-K 
Since it began in 2015, more than 11,500 Hoosier children have attended preschool through a grant from Indiana's On My Way Pre-K program. Into 2021, Early Education Works seeks to expand On My Way Pre-K to serve more children from low-income households across the state. 
On My Way Pre-K is a pilot program administered through the Office of Early Childhood and Out of School Learning under the direction of the FSSA. Initially serving only five counties, since 2019 this program has expanded to encompass all Indiana counties, providing grants for 4-year-olds from low-income families, thus providing access to high-quality pre-k programs. 
The program is designed to flexibly maneuver given the needs of families, with options for full-day or partial-day programs. Additional benefits of this program include waived family co-pays, an absolute guarantee of 53 weeks of service, and continuity of care for the Child Care and Development Fund (CCDF) vouchers, which continue up to age 12 as long as the family continues to meet eligibility requirements. 
Success and Gains
There is ample evidence to show that high-quality ECE is a powerful, enduring investment that benefits Indiana's economy and employers, parents and guardians, and the next generation of Hoosier talent. 
For the economy and employers: 
Every dollar invested in early childhood education delivers at least a $4 return in reduced spending and higher lifetime earnings. 
The state stands to recoup up to $118.8 million in economic activity lost every year due to child care related disruptions. 
Employers also stand to save nearly $1.8 billion in the direct costs associated with child care breakdowns that lead to absenteeism and turnover. 
For parents and guardians: 
Access to high-quality early child care and education gives Hoosier parents and guardians peace of mind and stability they need to go back to work or reskill or upskill for an in-demand job. 
The On My Way Pre-K program puts the cost of tuition within reach for the low-income Hoosier families who stand to benefit from early education the most. 
For Indiana's emerging workforce: 
A FSSA report found that children participating in the On My Way Pre-K program gained skills at a higher rate than their peers who did not attend pre-k, and these gains were maintained over the summer and into kindergarten. 
A Purdue University evaluation of On My Way Pre-K found that children in the program had fewer problem behaviors compared to their peers who were not enrolled in the program.
The Office of Early Childhood and Out of School Learning is partnering with Purdue University to evaluate the On My Way Pre-K program's success. This work includes conducting a 4-year longitudinal study of the program, with interim reports provided each year. 
The 2019 report considers numerous benefits of the On My Way Pre-K program, ultimately concluding that, while the study is ongoing, "the feedback and research conducted thus far continues to provide the conclusion that On My Way Pre-K has the potential to improve participating 4-year-olds' early learning skills and readiness for kindergarten, especially in language comprehension, early literacy skills, and overall school readiness." 
In addition to these student benefits, caregivers also reported benefits in their families' self-sufficiency, with 74% of cohort three On My Way Pre-K caregivers reporting being "satisfied" or "very satisfied" with the program during the 2018-2019 year. 51% of these caregivers were able to increase work or school hours, 35% were able to obtain new employment, and 33% were able to begin school or job training.
2021 Priorities 
Entering into 2021, Early Education Works has asserted their six priorities to be:
Conscientiously expanding On My Way Pre-K
Increasing provider participation and advancement in Paths to QUALITY
Establishing an integrated data system to report on ECE supply and demand
Incentivizing the creation of provider networks and other shared services
Investing existing child care and development fund dollars to reduce market volatility and stabilize a critical supply of high-quality care in communities statewide
Investing in preparation pathways and retention strategies

Go here to learn more about Early Education Works and their efforts to sustain On My Way Pre-K.
Indiana Philanthropy Alliance (IPA) is proud to be a part of the Early Education Works coalition. These efforts to advocate for Indiana's low-income families and remove the barriers to access high-quality early education directly align with IPA's 2021 public policy agenda and seek to promote the quality of life for all Hoosiers.