Member News
Prosperity Indiana Receives $50k from First Financial for Capacity Building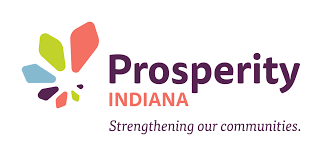 Prosperity Indiana is pleased to leverage a $50,000 grant from the First Financial Foundation and First Financial Bank (Nasdaq: FFBC) to support community-based organizations seeking to expand affordable housing and services across the Hoosier state. The grant will specifically underwrite Prosperity Indiana's capacity building work with community economic development practitioners throughout Indiana.
"Working through Prosperity Indiana gives us a channel to invest in Indiana neighborhoods in a way that will give more individuals equal access to resources and opportunity," said Roddell McCullough, director of community development for First Financial Bank. "First Financial exists to be woven into the communities we serve, so we look forward to the impact this funding will make in those communities throughout the state."
As Indiana's only cross-sector network for community development organizations, Prosperity Indiana builds capacity through cutting-edge training and consulting projects that nurture problem-solving, collaboration, and innovation skills. Through grant activities, Prosperity Indiana will strengthen the capacity of a wide variety of stakeholders dedicated to improving quality of life for the people and in the places that most need it. The ultimate goal of the program is to create economic resiliency for low- to moderate-income individuals. As Indiana communities rebuild post-pandemic, Prosperity Indiana has resolved to fortify the field's ability to provide services and affordable housing with racial equity at the core of the work. Now is the time to consider new ways to bring about true organizational resilience that will lead to improved opportunities for the individuals and communities looking to rebuild in transformative ways in 2021 and beyond.
"Resources for nonprofit capacity building are so limited, it's always significant when we can secure funding to make training and consulting more accessible to our members and partners. But in light of the pandemic and its impact on the level of need to provide affordable housing and family resiliency services, an award of this size from First Financial feels momentous," said Jessica Love, executive director of Prosperity Indiana.
Grant funds are currently supporting the Changing4Good webinar series, Prosperity Indiana's first major training installment of the year. The Changing4Good series will empower individuals to develop adaptive and technical solutions to meet post-pandemic challenges facing their organization and community. With support from First Financial, Prosperity Indiana is now able to make the Changing4Good webinar series free to anyone wishing to attend. Registration is now open. The First Financial grant will also support the upcoming Prosperity Indiana Real Estate Development Academy and other training and consulting related to industry-specific technical and adaptive challenges and expertise. 
"With support from leaders in the Hoosier state such as First Financial, we look forward to continuing and expanding our support to the individuals, organizations and communities doing the hard work of strengthening our communities in equitable ways."