IPA Blog
Meeting Spaces for Community Collaboration
Saturday, November 28, 2020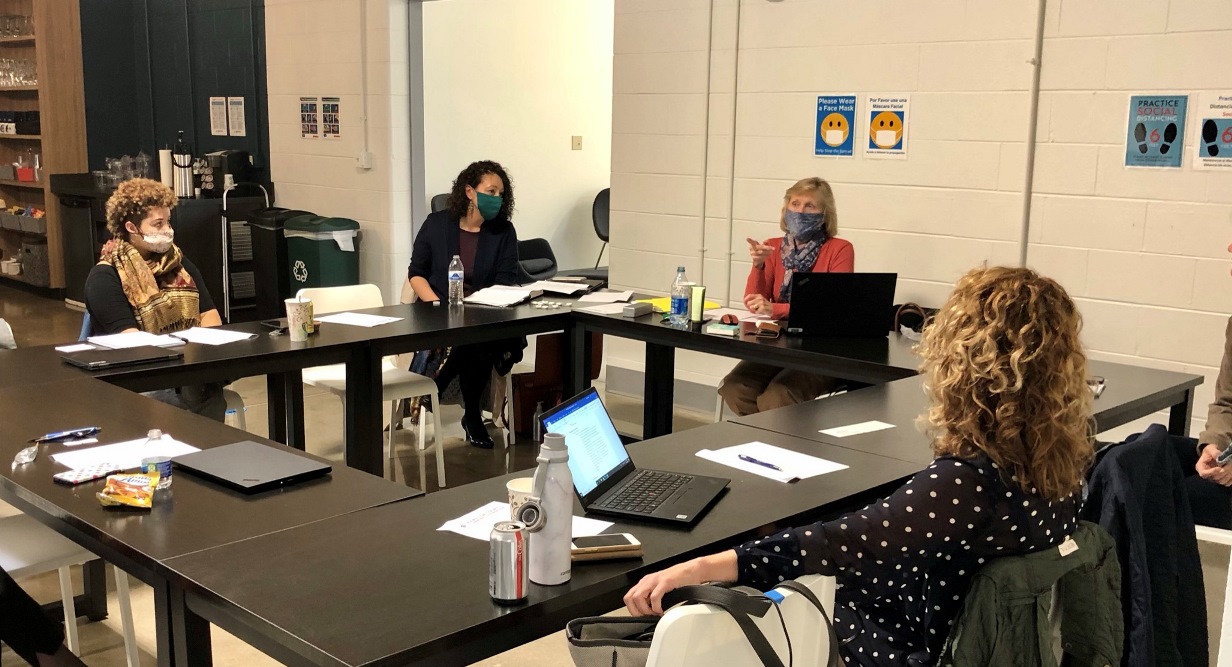 In the face of this pandemic, we see foundations and philanthropic companies continue to make modifications and infrastructure improvements to provide safe spaces for their staff and community partners. From extending Wi-Fi services into outdoor spaces for public use and offering nonprofits access to virtual meeting platforms to increased sanitation and physically distanced meetings, a variety of environmental and behavioral shifts have surfaced.
As foundations take on enhanced roles as community leaders and conveners, they are opening doors to nonprofits in need of safe spaces to meet, learn, and collaborate. These spaces have the potential to remove many barriers that young nonprofits face, as well as reduce or eliminate the often-costly process of building administrative systems from the ground up. 
Below, we've highlighted three foundations that have created modern collaboration hubs and incubator spaces for nonprofits in 2020. These spaces feature flexible layouts that can easily be adapted to safely accommodate guests under current and normal circumstances far into the future. 
Hamilton County Community Foundation
As part of Lilly Endowment's GIFT VII community leadership initiative, Hamilton County Community Foundation asked itself how it could better serve its local partners. After completing listening sessions, the foundation found that nonprofits were stretched thin with resources and struggling with day-to-day operations. They decided one solution would be to create a destination space for nonprofits where they could learn how to innovate and run their organizations better. 
This collaboration space was built out as an extension of the foundation's new office building. It includes an expansive room with high ceilings and a flexible floor plan that can easily be reconfigured. There is a full kitchen, lounge seating, and separate offices for smaller, more private meetings.
Healthcare Foundation of La Porte 
Healthcare Foundation of La Porte's (HFL) 13,000-square-foot Conference & Learning Center, built in 2020, will provide a productive space for local nonprofits and public service organizations to meet, learn, retreat, and plan in the coming year. This will include many educational opportunities sponsored by the foundation, such as the nonprofit Leadership Academy and Board Governance Academy. 
The Center's conference room can be divided into three separate spaces, each with the latest state-of-the-art audio and visual equipment. Additionally, all of the conference rooms lead out to outdoor seating areas on the patio, allowing easy access to an inviting outdoor gathering space. The Center also features an incubator space that is dedicated to the development of nonprofits. It will provide a space to work and to connect to mentors, designers, accountants, fundraising experts, strategists, and more. 
Welborn Baptist Foundation
In response to the identified need in the Greater Evansville community for training and collaboration space, particularly for the nonprofit sector, Welborn Baptist Foundation created two unique spaces that combine adaptability, functionality, and beautiful panoramic views of the communities they're partnering to serve.
The Welborn Community Room is a 1,100-square-foot space that's been designed to host training events and meetings. Including a large, caterer-ready kitchen, technology for in-room presentation and web conferencing, and adaptable furniture, the Welborn Community Room is capable of accommodating a variety of scenarios.
The Collaboration Hub is a 500-square-foot space designed for collaboration and consulting. Within the Collaboration Hub, there is casual work and gathering space, two private huddle rooms and a hospitality kitchenette. Like the Welborn Community Room, the Collaboration Hub also has technology for in-room presentation and web conferencing.
These two rooms combine for over 1,600 square feet of space that can be adapted to suit a variety of scenarios, including classroom-style training, board meetings, banquet seating, collaboration space, and small, private meetings. These new spaces also feature the latest technology for in-room presentations as well as virtual communication.
Safety Recommedations from Design Professionals
When it comes to creating safe environments that are open to the community, foundations can learn from their library neighbors who have long served as third spaces for the public. Indiana public libraries have been stepping up health and safety protocols to ensure they continue providing vital services. With support from Indiana Library Federation, these libraries have been receiving guidance and assessments from local healthcare architects. In addition to requiring face masks, physical distancing, and checking temperatures, design professionals had the following recommendations:
Continually run HVAC systems to increase airflow and circulation
Update air filtration systems to get fresh air into the building
Select furniture and upholstery that can withstand harsh cleaners
Use daily professional cleaning services
Require users to sanitize meeting spaces after each use
Stagger room use to use time as a disinfectant (wait 24 hours, if possible)
Extend programs into outdoor environments
Compartmentalize large rooms to temporarily segment different functions 
Convert existing storage rooms or abandoned offices into private spaces guests can use to host virtual meetings