Member News
Linden Project Committee receives Henderson award
Wednesday, November 15, 2017
The Linden Project Committee for CSA Lincoln Elementary School has been selected as the 2017 recipient of the James A. Henderson Award for Fund Raising. 
The James A. Henderson Award was created by the board of the Heritage Fund — The Community Foundation of Bartholomew County to recognize the invaluable role that volunteer fundraisers play in advancing the quality of life locally.
Henderson served as CEO and chairman of Cummins, Inc. and participated on the original Heritage Fund Board, helping raise million to support the community foundation.
Each year, Heritage Fund seeks nominations from the community for the award, based on criteria such as innovation, effectiveness and the ability to engage donors.
This year's award recipient is a group of parent volunteers from CSA Lincoln who are raising funds to upgrade the school playground to create an outdoor learning environment and a safe playground space for the downtown community. The Linden Project Committee created a robust fundraising campaign that included grant-writing, fundraising events, a social media plan and an online crowdfunding campaign.
The Linden Project is modeled off an original concept for a playground at CSA-Lincoln in 1966 that never materialized. It is a tribute to the architect who designed the original concept, Gunnar Birkerts, who had called for Linden trees in the design, school principal Brett Findley said.
Construction on the playground, which will include outdoor classrooms, sculptural benches and a butterfly garden, will begin in the spring and is expected to be completed by the 2018-19 school year.
In partnership with Bartholomew Consolidated School Corp., the committee is closing in on the fundraising goal with nearly $511,000 raised this year.
The committee is raising money for an architecturally significant outdoor learning and play space that meets accessibility and safety requirements as well as creating a future maintenance fund to ensure the long-term care of the new space.
The Henderson award comes with a check for $2,500 to the Bartholomew Consolidated School Foundation to support The Linden Project.
For more information, visit heritagefundbc.org.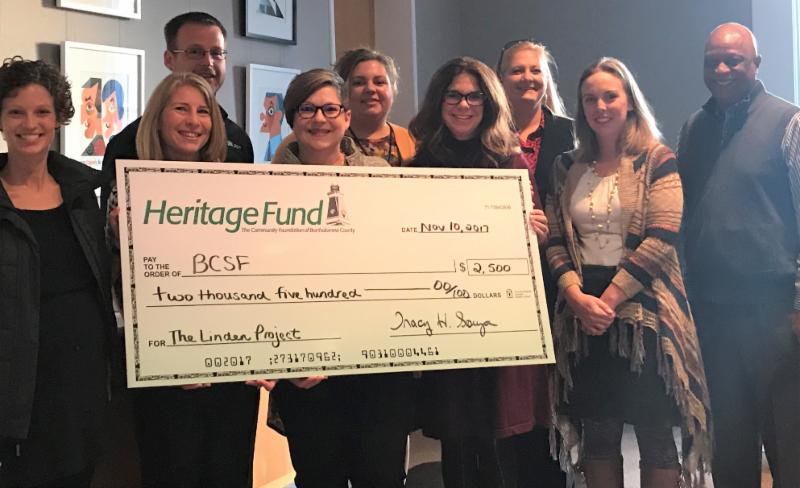 Representatives of The Linden Project Committee were presented with the 2017 James A. Henderson Award for Fund Raising at the Heritage Fund Board of Directors meeting on Nov. 10. From left, HFBC Grants Manager Abbie Bush, Jess Schnepp, Paul Schnepp, Tracy Kiser, Stephanie Seaborne, Melissa Wilson, BCSF Executive Director Suzi Bruin, Ashleigh Fisher and HFBC Board Chairman Tom Harmon.