Member News
Hayes Arboretum recognizes Wayne County Foundation with award
Friday, September 21, 2018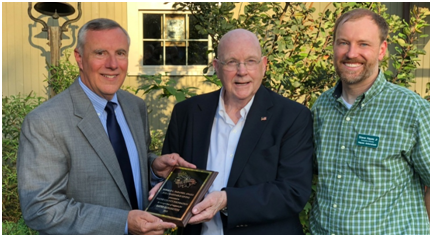 Wayne County Foundation was recognized for its charitable work associated with Hayes Arboretum at the Arboretum's annual dinner, receiving the Ronald L. McDaniel Award for Charitable Giving. 
The Ronald L. McDaniel Award for Charitable Giving was established to recognize outstanding support related to philanthropic contributions to the Arboretum, supporting its mission of environmental education.  Mr. McDaniel, owner of Western-Cullen-Hayes Inc., grew up in the Richmond area.  He is associated with five generations of the Hayes family, beginning with Stanley W. Hayes as an employee of the Hayes Track Appliance Company in 1957.  Since 1998 Mr. McDaniel has served on the Stanley W. Hayes Research Foundation Board, giving generously with his time and financial resources.
Wayne County Foundation has long been a supporter of Hayes Arboretum.  Throughout Wayne County Foundation's over 40-year history, the Arboretum has benefited from Foundation grant funding, the Challenge Match program, and a permanent education endowment.  Over the past four years, Wayne County Foundation has helped generate over $80,000 in contributions, improving the Arboretum's ability to enrich the lives of community members through environmental education. 
Among the Wayne County Foundation's contributions, was a $9,500 grant to support the construction of a Playscape.  This free space, located near the Arboretum's nature center, is open to the public.  The Playscape encourages outdoor exploration through interactive experiences and play, and has received distinction as a Certified Nature Explore Classroom by the Nature Explore Program.
Arboretum Executive Director, Stephen Hayes Jr. comments, "The Wayne County Foundation is a tremendous financial asset and educational resource that positively impacts the lives of our community members.  The thoughtful distribution of funds demonstrated by the Foundation addresses the needs of our community while encouraging a spirit of giving."