Wednesday, November 8, 2017
(Elkhart, Indiana) — Edward Jones financial advisors and branch office administrators in Elkhart County have come together to give back.
Inspired by the 100 Women Who Care, a gathering of women who band together and pick a charity each quarter, the Edward Jones employees from 27 Elkhart County offices formed the Edward Jones of Elkhart County Philanthropy Fund with the help of the Community Foundation of Elkhart County.
"Our goal is to collectively give back to charities in Elkhart County, but from Edward Jones as a whole," said Bill Clark, an advisor from Middlebury who is chairman of the committee that formed to organize the effort.
The financial advisors and support staff contributed $12,612 and the Edward Jones home office contributed a match of $2,500. The employees suggested three potential charities and voted for one. A check for $15,112 was presented to The Crossing Education Center, an alternative school based in Elkhart, but with sites across the state.
"This is a great honor," said Rob Staley, CEO of The Crossing. He told those gathered at the Edward Jones regional meeting that The Crossing is fighting to help kids in poverty and conflict, which often result in dropping out of school or worse. The faith-based job education programs help, but The Crossing still buries too many of its students who die in murder or suicide, he said.
"We're sending too many of our kids to prison," he said. "You're here today to support us so we can save a life." The organization empowers struggling students to become contributing members of their communities.
Edward Jones employees had been talking about banding together to make the donation for some time. "We all give on our own. To do something collectively as a group in the county, it's just powerful," said Clark.
The Community Foundation helped establish the fund and made it easy to contribute and then distribute the money. "I don't know how we'd do it without the Community Foundation," Clark said.
The fund is likely to grow in coming years and could result in several gifts a year. "It's a lot more fun to give away bigger numbers," said Scott Puckett, an Edward Jones advisor in Elkhart.
Elkhart County employees will give again in 2018 and issued a challenge to colleagues in St. Joseph County. "Let's see who can give away the most money next year," Clark said at the recent regional meeting where the check was presented to Staley.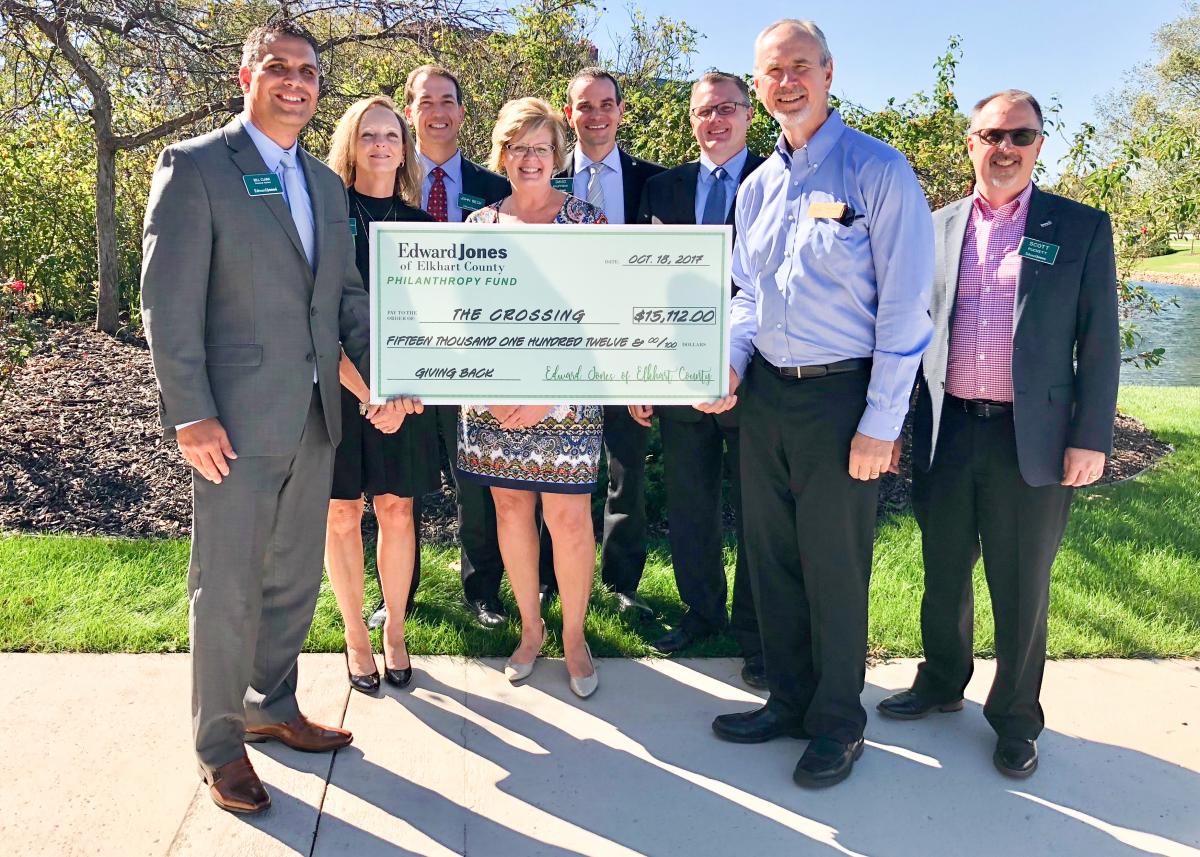 First row: Bill Clark, Rob Staley, Scott Puckett
Second row: Peggy Harman, Dianne Clark, Aaron Wilkinson
Third row: John Beck and David Kauffman
About Community Foundation of Elkhart County
Community Foundation of Elkhart County partners with donors to leverage their philanthropy in ways that transform lives. Since 1989, the Community Foundation has connected the generosity of donors with community needs by providing scholarship opportunities to local students and making grants to nonprofit organizations working to improve Elkhart County.  It's with strength and hope the Community Foundation seeds the local landscape, supporting plans, programs, and ideas that potentially stand the test of time.  The Community Foundation strives to be a local entity known for inspiring good and impacting success. 
For more information regarding the Community Foundation, visit www.InspiringGood.org or call (574) 295-8761.