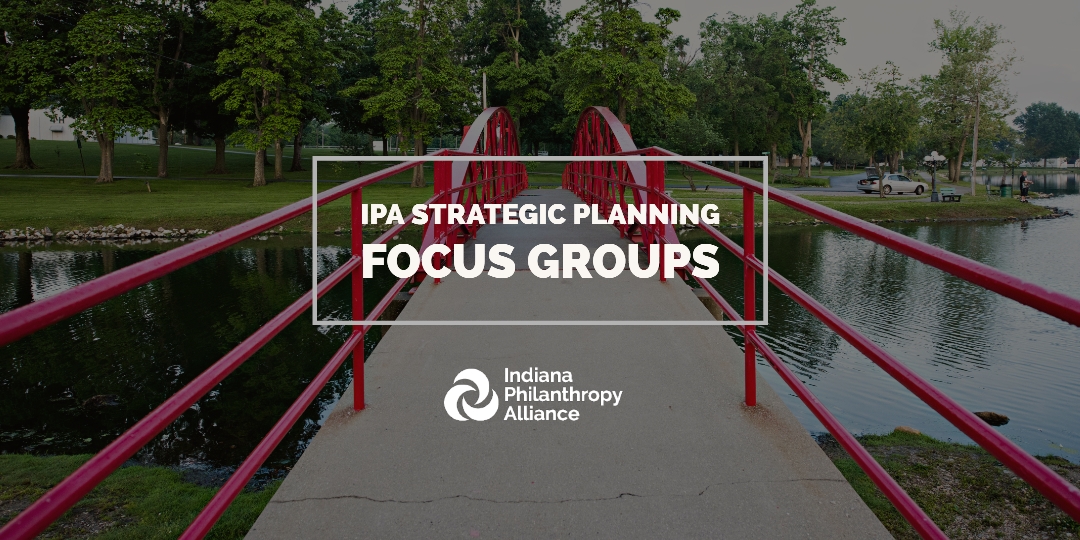 Indiana Philanthropy Alliance (IPA), the state's largest amplifier of philanthropic impact, is undergoing a strategic planning process to chart the organization's path for the next five years.
Under the leadership of a new CEO, IPA has the opportunity to make significant shifts while maintaining its current strengths. We invite you to participate in this event to help drive the process and ensure that your vision for IPA is included.
Don't miss out on your opportunity to leverage this valuable resource to better advance your organization's goals.
You may choose to attend any one of the below events that best suits your location or schedule.
RSVP  New Albany
Tuesday, June 18, 2019
10:00 - 11:30 a.m. EDT
Community Foundation of Southern Indiana
4108 Charlestown Road, New Albany, IN 47150
Thursday, June 20, 2019
9:30 – 11:00 a.m. EDT
First Merchants
200 E. Jackson St., Muncie, IN 47305
RSVP  Evansville
Friday, June 21, 2019
11:30 a.m. - 1:00 p.m. CDT
Old National Bank
Blue and Gold Room, One Main Street, Evansville, IN  47708
RSVP  Indianapolis
Wednesday, June 26, 2019
9:00 - 10:30 a.m. EDT
Monarch Beverage
9347 Pendleton Pike, Indianapolis, IN 46236
RSVP  Merrillville
Thursday, June 27, 2019
2:00 - 3:30 p.m. CDT
Legacy Foundation
370 E 84th Drive, Suite 100, Merrillville, IN 46410
RSVP  Elkhart
Friday, June 28, 2019
9:00 – 10:30 a.m. EDT
Community Foundation of Elkhart County
300 Nibco Parkway, Suite 301, Elkhart, IN 46516
RSVP  Fort Wayne
Friday, June 28, 2019
2:00 - 3:30 p.m. EDT
Foellinger Foundation
520 E Berry St, Fort Wayne, IN 46802