Meeting/Networking
Greater Indianapolis Program Officers (GIPO) Networking Meeting

Jessica Fraser, Director of the Indiana Institute for Working Families, a program of the Indiana Community Action Association, will address key findings from their latest report.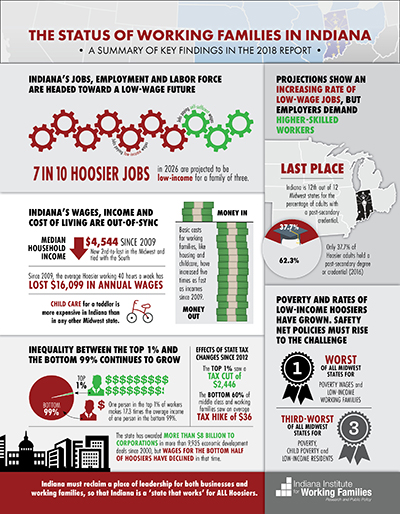 Indiana once stood as a leader in the Midwest, ranking at least average or better than the region as a whole in areas used to indicate family success.  But after 2004, we've seen our rankings decline when it comes to child poverty, low-income families, rates of adults with post-secondary degrees, and more.
Based on indicators from the Indiana Institute of Working Families (IIWF) report: The Status of Working Families in 2018, IIWF believes Indiana must make significant economic policy changes that will allow all Hoosier families to thrive. At this meeting, we'll discuss their priority areas, including wage standards, access to education, and the state's tax and budget structure.
With renewed economic development focus on strengthening Hoosier families and communities, Indiana can reclaim its place as leader in the Midwest and in the nation.
Resources
Go here to access resources shared by our speaker after this meeting, including the following:
Presentation Slides
The Status of Working Families in Indiana - 2018 Report
IIWF report: Clearing the Jobs Pathway
IIWF produced video about Indiana's welfare program (TANF)
TANF publications page with 2 fact sheets
Landing page for all IIWF policy briefs
Graph on the need to train adult workers