Webinar
Entry Points: Philanthropy's Response to the Substance Use Disorder Crisis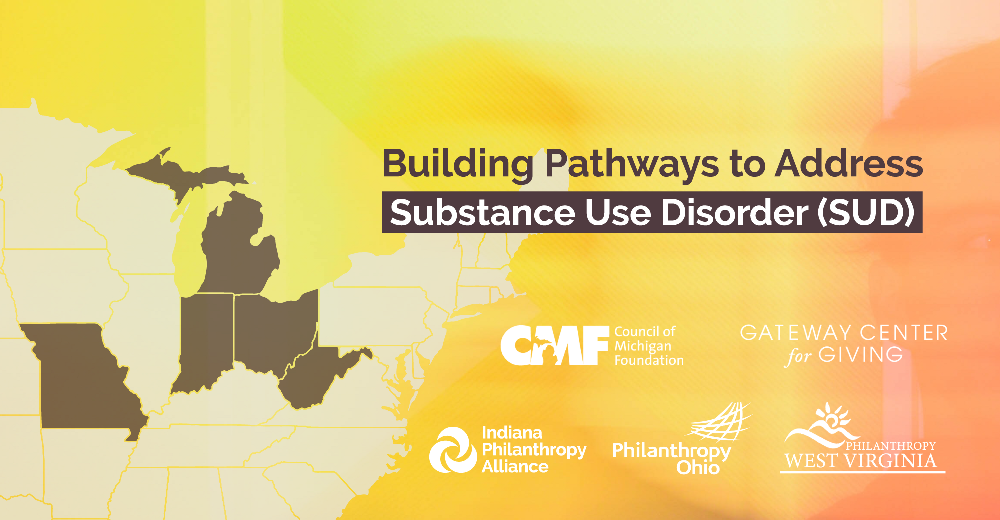 COVID-19 is exacerbating ongoing public health emergencies, including the Substance Use Disorder (SUD) crisis in the United States. More than 40 states have recorded increases in opioid-related deaths since the pandemic began, according to the American Medical Association.
The pandemic has increased risk factors like job loss, stress, and isolation, while requiring new and innovative methods to safely provide treatment and support. Due to the complex and urgent nature of the epidemic, reversing the SUD crisis will require a multi-sectoral response; no organization, government agency, or sector can solve this crisis on its own.
This program highlights resources offered by government agencies that can benefit those in recovery, families, communities, the nonprofit sector, and employers. Participants will also learn about other foundations who are actively engaging different sectors to improve outcomes.  
This program is presented in collaboration with Indiana Philanthropy Alliance, Philanthropy West Virginia, Philanthropy Ohio, the Gateway Foundation, Council of Michigan Foundations.
Speakers
Rachel Thaxton, Assistant Director of the Office of Drug Control Policy, West Virginia Department of Health & Human Resources
Rachel will share new resources recently released by the office for use in recovery. Prior to joining the West Virginia Department of Health and Human Resources in 2019, Rachel served as Director of Development and previously as Program Director for Recovery Point West Virginia. Her past experience includes serving as Support Team Leader at Harmony House.
Crystal Ward Allen, Senior Director, Strategic Consulting with the Casey Family Programs
Casey Family Programs is the nation's largest operating foundation focused on safely reducing the need for foster care and building Communities of Hope for children and families across America. As the foundation's senior director, Crystal will discuss the collaborative program START (Sobriety, Treatment and Recuing Trauma) program launched in Ohio in 2017 with the Ohio Attorney General's office. Crystal is a strategic consultant, working with the child welfare communities primarily in Colorado and Ohio to strengthen families and reduce the need for foster care. She has been with Casey Family Programs since spring of 2014, after 24 years working with the child welfare system in Ohio, as well as early years as a juvenile probation counselor in Appalachia, VA; adolescent group care in Pittsburgh, PA; and child welfare in suburban Minnesota.